Buying Guides
Blanket Buying Guide
How To Choose Blankets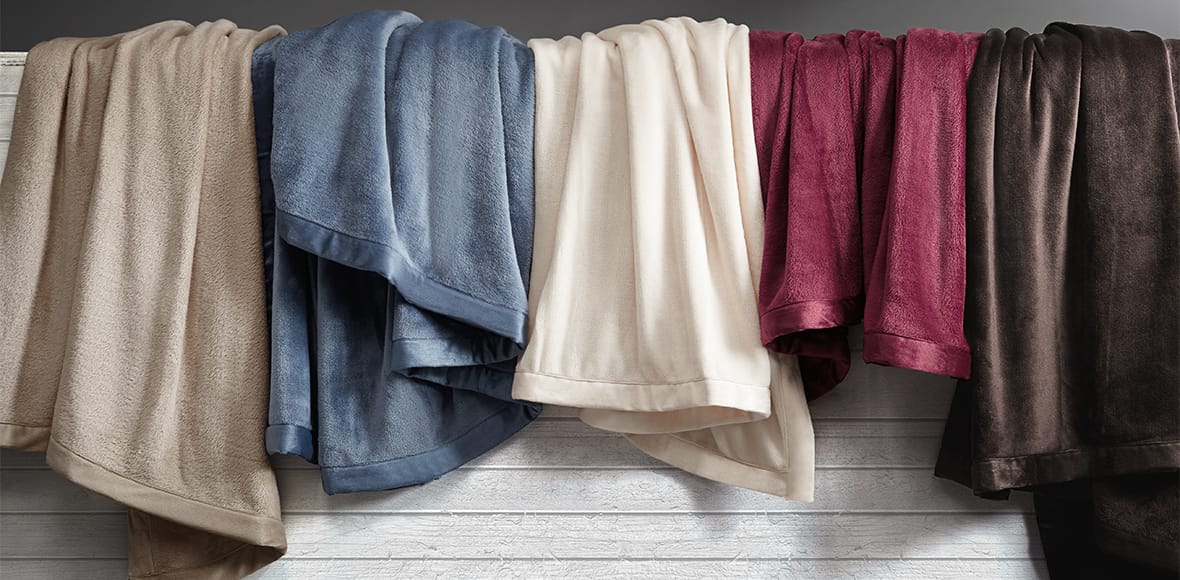 Whether you want a completed bedding set or your need some extra warmth during the cold winter months, blankets are essential for any household. However, when it's time to purchase one, keep in mind that not all blankets are created the same, and there are several types of blankets to choose from.
Are you buying a blanket to keep you warm or is it going to be used as a decorative throw? These types of questions should all be considered before finding your perfect blanket.
At Designer Living, we've put together a blanket buying guide so you can find the best type of blanket for you. Once you've decided what you want, shop our extensive selection of blankets and throws. Not only are our blankets cozy and stylish, but they are also affordable to fit any kind of budget.
Get started now with our Blanket Buying Guide and get one step closer to creating the bedroom of your dreams.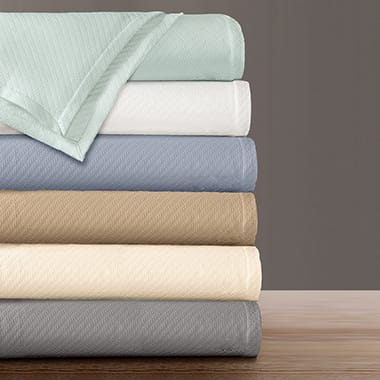 Fabrics
Cashmere : This fabric comes from Cashmere goats that are raised in different regions of the world like Tibet, India, and Pakistan. Cashmere is often preferred compared to other fabrics because it is softer than the traditional sheep's wool. It also provides a stronger insulation which will keep you nice and toasty on those cold winter nights. The fibers in cashmere fabric are also strong and light, which means it won't weigh you down or break apart easily.
Cotton : Fiber from the cotton plant offers a breathable and long lasting strength even after multiple washes. Cotton is a staple fiber which produces a soft and fluffy fabric. This plant grows in tropical and subtropical regions including India, Africa, and the Americas. When cotton is produced, the crop is spun into a thread or yarn that can later be used in any kind of textile. Cotton is such a popular fabric today because it is relatively inexpensive and is very durable.
Fleece : Fleece is a super soft material that is lightweight and perfect for any season. Even though fleece tends to be thinner than most fabrics, it is still very warm and comfortable. This fabric is made out of acrylic fibers, which give the material its defining characteristics. Many people like fleece because it is machine washable and affordable.
Alternative Mink : Alternative mink is a lustrous fur-like material that is made from synthetic fibers to resemble animal fur. Alternative mink provides you with all the warmth and coziness that you would normally find in a fur blanket but at a fraction of the cost.
Berber Fleece : Berber fleece is textured material that is lightweight, warm, and soft.This fabric is made out of synthetic fibers that is often compared to fur because of the incredibly soft, curled texture. Berber fleece also provides great insulation to keep you warm throughout the coldest nights. It is also water repellant, which means it is able to wick away moisture to keep the user as comfortable as possible.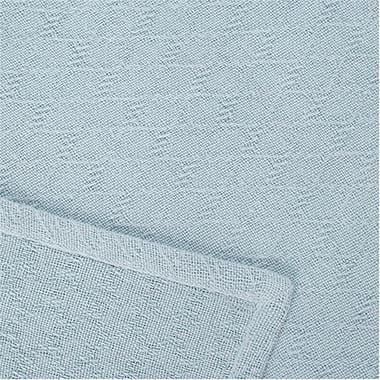 Microplush / Microlight / MicroTec : This ultra soft, non-pilling, and thick material is perfect to be used alone or layered with your comforter, quilt, or coverlet. These blankets have a luxurious feel but are still more affordable than the more higher-end fabrics. It is also machine washable which makes it easy to maintain.
Down : Down is filled with goose or duck feathers to create a thick and fluffy blanket; it's the most effective insulator, yet breathable to help keep you cool in summer and warm in winter. Down is such a desired material because it regulates the body temperature very well without being too heavy. Keep in mind that down tends to cost more because it's made of higher quality material than most other blankets.
Down Alternative : Down alternative is a great substitute to a standard down blanket. These blankets are made out of synthetic fiber so it can be hypo-allergenic as well as cruelty-free. Down alternative is also a favorable option because it also regulates body temperature like the down, however it only costs a fraction of the price. This option is also great for people who suffer any type of allergies. While down alternative shares many similarities to its more expensive cousin, it does tend to weigh more and is not as well insulated.
Electric Blanket : Electric blankets are made out of synthetic fibers and features an adjustable thermostat with a heating element running throughout the blanket that allows the user to control a desirable temperature. Electric blankets are especially great for the colder winter months when you need some added warmth. Electric blankets can come in a variety of colors, styles, and fabrics depending on your preference.
Sizes
*Approximate sizes. Sizes may vary by brand.
Twin 66 inches x 90 inches
Full/Queen 90 inches x 90 inches
King 108 inches x 90 inches