Buying Guides
Coverlet Sizes & Buying Guide
How To Choose Coverlets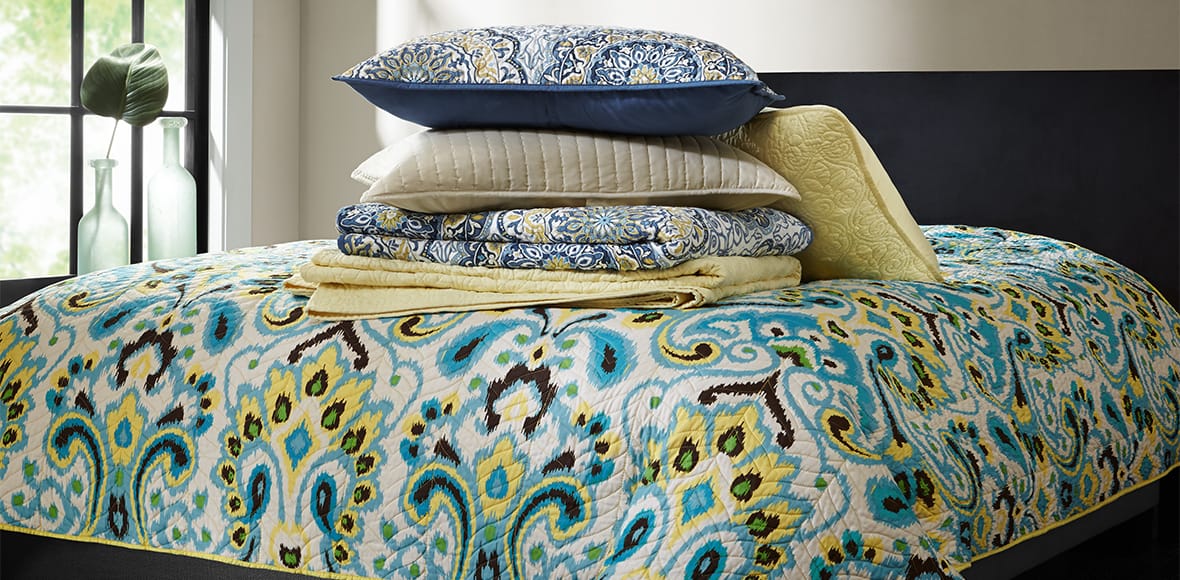 Coverlets are a lightweight bed cover. They are great for the warmer seasons because they aren't as heavy as comforters and have a small amount of filling for added comfort. If you are looking for a comfortable bedding option for the warmer summer months, the coverlet can be your perfect solution. Just like with all standard comforters, there are many different coverlet sizes to choose from. They can also be used year round as a decorative mattress topper to your comforter or duvet set to keep you extra warm. With coverlets gaining popularity, these bedding linens are available in all designs, colors, and prints to cater to any preference. They can also have several different style of fittings. Some are loose like a traditional throw blanket and while drape alongside the bed freely, while others are fitted to be tight around the mattress. A more fitted coverlet gives a fancier appearance, and is mainly for decoration. It can also be more difficult to make the bed, so use this type of bedding for a spare guest room or guest house. Often coverlets are reversible, which serve as a versatile piece that allows you to switch up the look of your room according to the season or just for fun. Use one of the smaller coverlet sizes as the perfect throw blanket for any room.
Overall Qualities of a Coverlet
A coverlet is a thin, pre-filled bedding that is meant to just cover the surface of the bed and the sides of the box spring. Unlike a standard quilt or bedspread, the coverlet is small, and shouldn't reach down all the way to the floor. It is usually paired with a bedskirt and complimentary pillow shams. The Coverlet is becoming a favorable bedding option for individuals who want a modern and sophisticated bedroom look. They are thin yet stylish, serving as the perfect canvas for any bedroom decor. Many people will also include a coverlet on their existing bedding, allowing it to be a decorative throw blanket or topper. Adding a coverlet is the perfect finishing touch for a layered bedding look. However, the main downside to a coverlet bedding is that they are not as warm as other bedding options. They tend to be too thin to be the sole bedding topper, and should be paired with blankets or sheets for extra comfort. However if you live in a warmer climate and only need moderate warmth at night, a coverlet can function as the main bedding for your room. You can also use a coverlet during summer months, and then make it into a throw to accompany a thicker comforter when it gets colder. If you are looking for a bedding option that focuses on style and less on warmth, the coverlet is the perfect bedding for you. These bedding options are both decorative and functional, giving a modern look in any room of your home.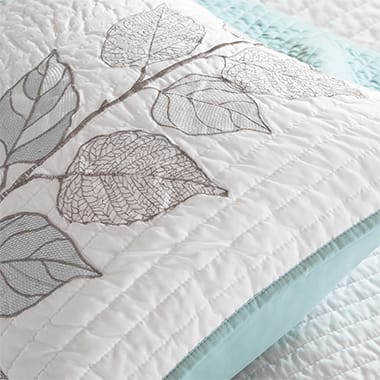 Fabrication
Coverlets can be compared to a number of different bedding types, however because of their unique design and qualities, they are in a category all of their own. This type of versatile bedding can be made by a number of different fabrics including polyester, cotton, or woven jacquards. Coverlets also come in a wide range of styles to fit any kind of home decor preference. You can choose a printed, colorful coverlet as a throw to add a pop of color, or a solid, modern design for a minimalist and classic feel. From floral, to animal print and everything in between, coverlets can be the perfect bedding option for any home.
What is the Difference Between a Quilt and a Coverlet?
From first glance, the coverlet and quilt look quite similar. They are both thin bedding options that are more decorative than comfortable, and can come in a wide variety of colors, patterns, designs, and fabrics. Both the quilt and coverlet are also typically smaller than a traditional comforter or bedspread, and will only pass the box spring on the side and end of the bed. However even with these similarities, these two bedding options are placed in different categories. So what sets these two options apart from each other anyways? Traditionally, a quilt has a layer of padding in between the two outer fabric layers. The bedding is then stitched together in a specific pattern, creating that signature quilted look that we are all familiar with. There are two different types of quilts to consider, either a piece-work quilt or a single piece of fabric quilt. The piece-work quilt is composed of several different pieces of fabric that make up the top layer of the bedding, while the single piece of fabric is all the same. A coverlet on the other hand does not have several layers of insulation like the quilt. It has a thin layer of prefilled batting which is its sole source of insulation. When it comes to the design, a coverlet can be quilted or woven depending on the desired look of the finished product.
Is the Coverlet Right for You?
If you are looking for something that is easy to maintain, stylish, and comfortable, than the coverlet can be a great option for you. Best of all, if you choose to purchase a loose-fitting coverlet, than you will have no problems making your bed in the morning. Its blanket-like qualities make it a breeze to style and use. They are also the perfect addition to have around the house as an added throw or decorative touch. Coverlets are known for their versatility, and can easily be used in any room. From simple and fitted to bold and loose, there is a coverlet that fits any kind of style. Do you know what size coverlet is best for you? Use our helpful coverlet size guide below to find the perfect bedding for you. Shop our wide variety of styles and designs at Designer Living to create your ideal dream room today.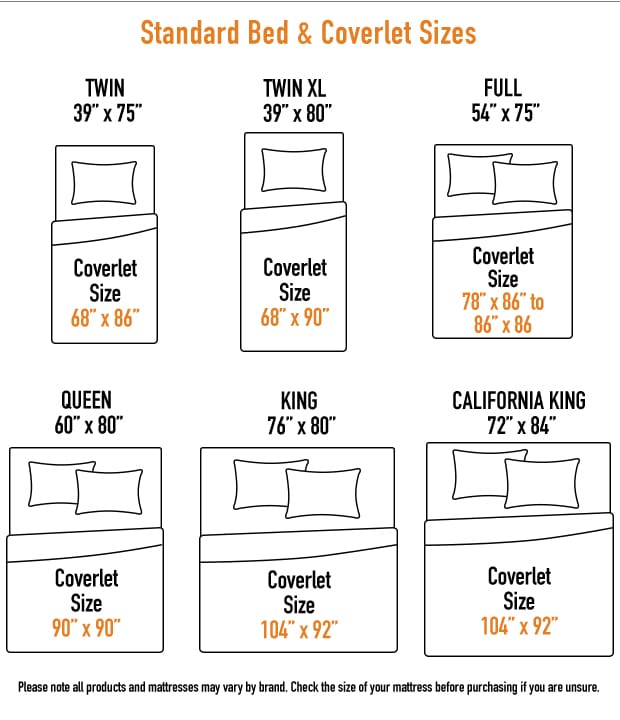 We Recommend
1

Sold Out

1

1

Sale