Buying Guides
Duvet Cover Buying Guide
How To Choose Duver Covers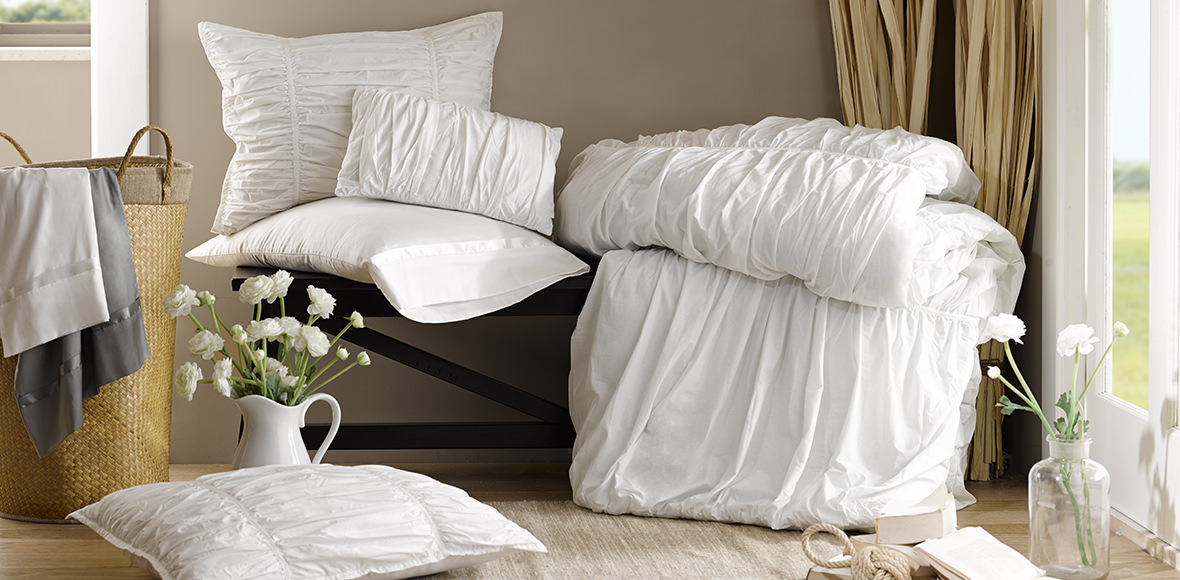 Duvet Cover Buying Guide
If you are looking to purchase a new bedding but are confused on the different options, then check out Designer Living's duvet buying guide. Here you can find a duvet size chart as well as everything you need to know about our high quality duvet covers. Our duvet cover sizes range from twin to California king, making it the perfect addition to any bedroom.
What is a Duvet Cover?
A duvet cover is a protective machine washable cover for your duvet, most likely for your down duvet. There are many duvet sizes and styles to choose from depending on your preference. They can also be referred to as a comforter cover since it's the outside of the bedding. Think of your duvet cover in the same way you would think about a pillow case. It protects the interior of the insulation and fabric, while still providing a decorative touch that's both stylish and functional.
Duvet covers are not filled. It has an opening where you can insert your duvet and it has various closure types such as buttons or zippers. These added elements make changing out a duvet cover easy and hassle-free.

Duvet Covers can also be made of different types of fabrics such as polyester, cotton, and woven jacquard. For texture and added style, there are many types of embellishments used on duvet covers. Some types of embellishments are embroidery, pleating, flocking, ruching, ribbons or buttons.
What is the Purpose of a Duvet Cover?
Even though the duvet cover is just the outside fabric of the bedding, it still serves many purposes. For starters, The duvet cover is meant to keep the inner duvet clean, dust free, and in good condition. This is especially important for duvets made of down feathers which are more expensive and of higher quality.
The duvet cover is machine washable and easy to clean, while the inner duvet should not be washed very often. The protective layer that the duvet cover helps to preserve the lifespan of your inner duvet, and can be easily changed out. The duvet cover also brings the overall style element to a room, serving as the main focal point for the rest of your decor. Having a duvet cover allows you to give a personalized touch to an empty room or a simple canvas to an eclectic style.
How to Choose the Right Duvet Cover
The first thing you should think about is how warm you want your duvet cover and insert to be. You can fill your duvet cover with several different fillings such as down, cotton, or synthetic alternatives. Higher quality down duvets are known to be better insulated and can regulate temperature, however are not recommended for an individual with allergies. If you are looking for a more economical option, a synthetic alternative can be a great substitute.
Make sure whatever duvet cover you choose will look and feel how it's supposed to with your desired duvet. You want the duvet cover to fit tightly around the duvet, without having extra space to move around. Depending on your preference, you can find duvets that are thin and light, or fluffy and warm.
What is a Duvet Tog?
When looking for the right duvet, it's important to know your desired duvet tog. In simplest terms, the duvet tog is the overall warmth a duvet provides. This is a ranking on a scale from 1 to 15. At the lower end of the spectrum, a number one would be categorized as summer, while 15 tog is appropriate for winter.
Depending on your current environment and personal preferences, you will want to know what number is best for you. Also keep in mind natural filling options tend to be better insulated, without being heavy. You may find that the synthetic options are bulkier, and cannot regulate temperature very well.

When it comes down to it, you will be choosing your duvet cover based on its style and feel. The actual cover itself does not vary greatly from one another aside from its overall appearance. When looking for the best duvet set for you, first consider the look and atmosphere you want to create in your space. Once you have a better idea, you can find the perfect duvet cover and duvet insert that best works for you.
Now that you've learned everything you need to know about duvet covers, it's time to start shopping! At Designer Living, we offer a wide variety of different patterns, styles, and fabrics so you can find exactly what you're looking for. Best of yet, our products are both stylish and affordable. For more information, check out our duvet cover size chart below.