Buying Guides
Mattress Pad Buying Guide
How to Choose Mattress Pads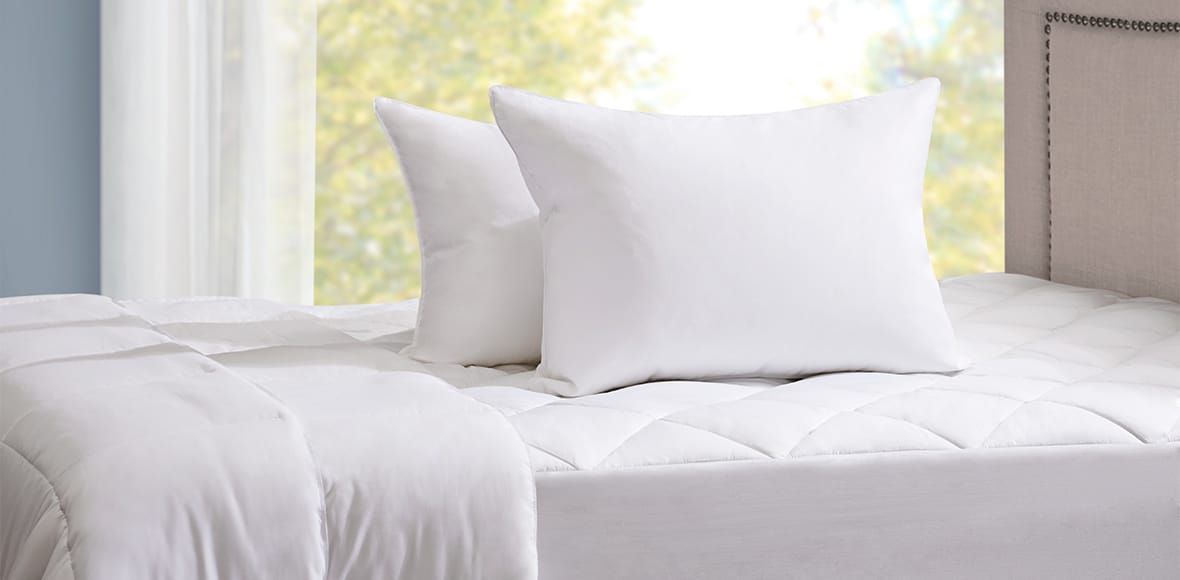 There are many reasons why you should own a mattress pad. You spend nearly a third of your life sleeping, and chances are you've made a substantial investment in a proper mattress to help you achieve a great night's sleep. There is also a high chance that your mattress came with a prorated warranty. You'll need to keep your mattress clean and free of stains and wear in order to keep that warranty in effect throughout the life of the mattress. Toppers serve as a great mattress protector and all types of mattress pads can help preserve the life of your mattress.
Besides protecting your mattress, a mattress pad can help protect you as well. Your mattress is a breeding ground for allergens like dust, dust mites, pet dander, and lastly, bed bugs. Another reason to buy a mattress pad is for the added comfort that it brings to your bed. Most mattress pads contain a generous amount of polyester fiberfill to make your bed even more comfortable. A good quality mattress pad will protect your mattress and will protect you as well. You may have spent thousands of dollars on a mattress so protect your investment and help achieve a better night's sleep for a fraction of the cost of a good mattress!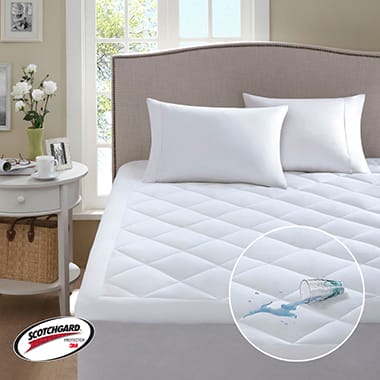 How To Choose a Mattress Pad
Mattress pads are great for different reasons, like providing support by adding extra cushion to your mattress, protection for your mattress from dirt, sweat, stains, and dust mites, and provide a longer lifespan to the mattress. Mattress pads usually have elastic edging to keep the mattress pad in place (mattress toppers are merely a foam layer and usually do not have elastic edging). Additionally, important information to look for is the thread count. Like a duvet covers, comforters, and set of sheets, thread count is the number of threads woven into a square inch of fabric. Thread count is still an important factor to consider when choosing a mattress pad.
The higher the thread counts the tighter the weaves indicating the quality and durability of the mattress pad. Since higher thread counts mean tighter weaves, a high thread count will keep the fill in and debris out.
Mattress Pad vs Topper
People often wonder what the difference is between these two items. In short, a mattress pad mostly serves as a mattress protector. While it can also contribute to the softness and comfort of your bed, these factors typically aren't its primary purpose. Mattress toppers, however, are designed to give you a more comfortable mattress. Both mattress pads and toppers are great additions to your bed depending on your ultimate goals.
It's also important to keep in mind any additional mattress toppers (memory foam in particular) that you may be using on your bed. Designer Living offers a full array of foam with and without quilted covers. You'll want to make sure that you account for the additional height that is being added to your mattress. The memory foam mattress topper decreases the firmness of your bed for a softer sleeping surface. This can be a great pressure relief for many people and can result in an increased level of comfort while sleeping. You'll more than likely want to place foam slabs (without covers) underneath your mattress pad. All of our mattress pads are machine washable, making them easier to maintain. Be sure to check the care label for proper water temperature. If one of your many reasons for buying a mattress pad was allergy protection, you'll want to wash it on a fairly regular basis. Not as often as your sheets bedding, but at least a few times a year minimum.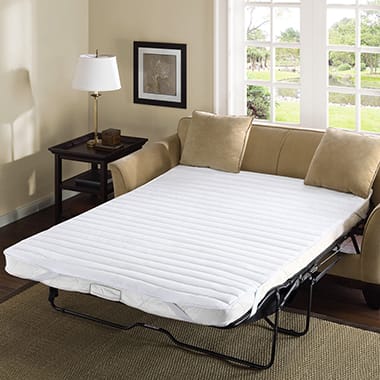 Types Of Mattress Pads / Toppers
Mattress pads for support: helps improve the quality of your sleep by adding a cushioned mattress pad on top of your mattress. These come in variety of thicknesses to provide different levels of cushion. Mattress pads for support tend to be thicker so that you have the comfort you desire.
Mattress pads for protection: come in different thickness and construction to help protect your mattress by adding a layer between the mattress and the fitted sheet. Different constructions include quilted with cotton fill to give it a nice padding.
Material Options
Cotton: great for easy washing ability (usually machine washable), and provides a nice soft hand-feel. Cotton is also a very durable material, which means it will last much longer than other fabrics. Even after several washes, a cotton mattress pad will still be soft and durable.
Polyester: synthetic fiber that is very durable. Naturally hypoallergenic, it is great for those who have allergies. Polyester is also a very comfortable material that can be very affordable.
Memory foam: a foam material that is ultra soft in reaction to body heat, which allows it to mold to a warm body in a few seconds. Memory foam tends to be of higher quality and more desirable compared to other materials.
Technology
3M Scotchgard ™ treatments: help to repel and release stains and wicks moisture for a cooler night's sleep. We also feature mattress pads with anti-microbial, hypoallergenic fiberfill to help eliminate odor-causing bacteria and help protect against allergens.
Waterproof protection: protects from spills and other accidents to keep your mattress clean, extend its life and to keep the warranty in force.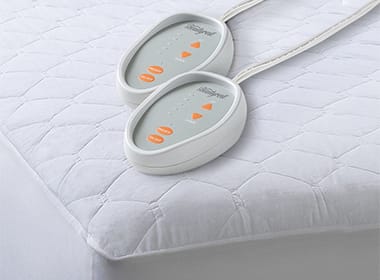 Beautyrest heated mattress pad : imagine a toasty warm bed on those cool winter nights; this pad has all the features you should look for in a heated product. It has Secure Comfort technology to virtually eliminate electromagnetic field emissions. Other features include 5 temperature settings, 10-hour auto shut off and dual controls in the queen and king size. It is also machine washable for easy care. The Beautyrest heated mattress pad is incredibly comfortable and works great on any size bed.
Now that you know how to pick a mattress pad, shop our wide selection of mattress pads and home decor essentials offered on our website.