Buying Guides
Bed Sheet Buying Guide
How To Choose Sheets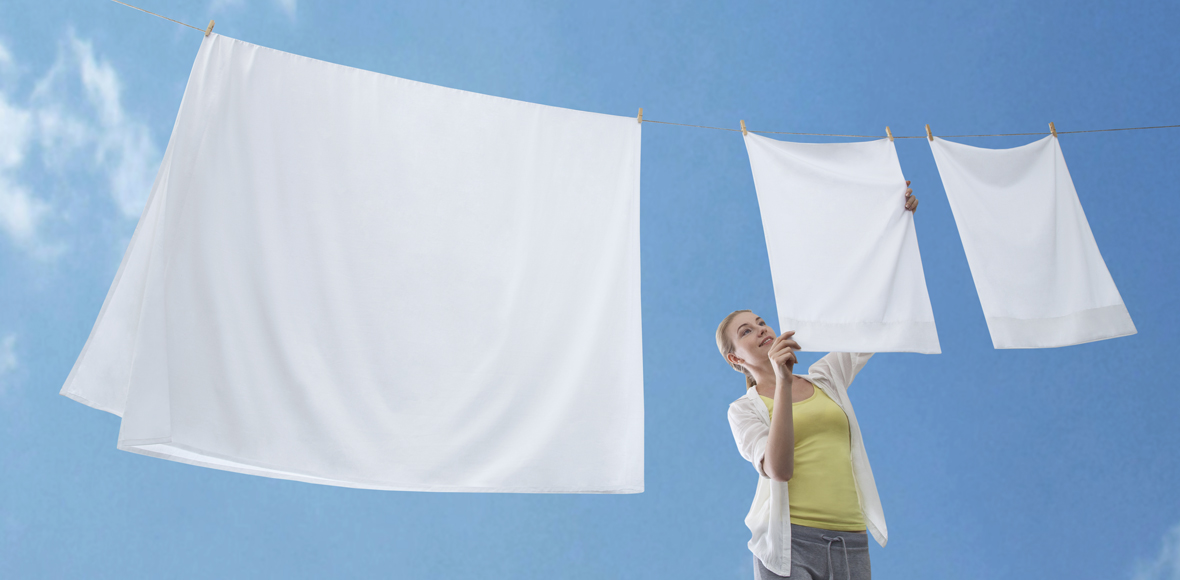 Bed Sheet Sizes
There are several elements to think about when purchasing sheets, but none are quite as important as getting the sizing right. That's why we've made a convenient bed sheet sizes chart so you know the right sheet sizes for your mattress dimensions. If your mattress is larger than standard size (perhaps your mattress includes extra padding or you're using a thick mattress pad or mattress topper), you might have to size up. Avoid the annoyance of fitted sheets unhooking from the corners of your bed, and find the perfect sheets for a great night of sleep.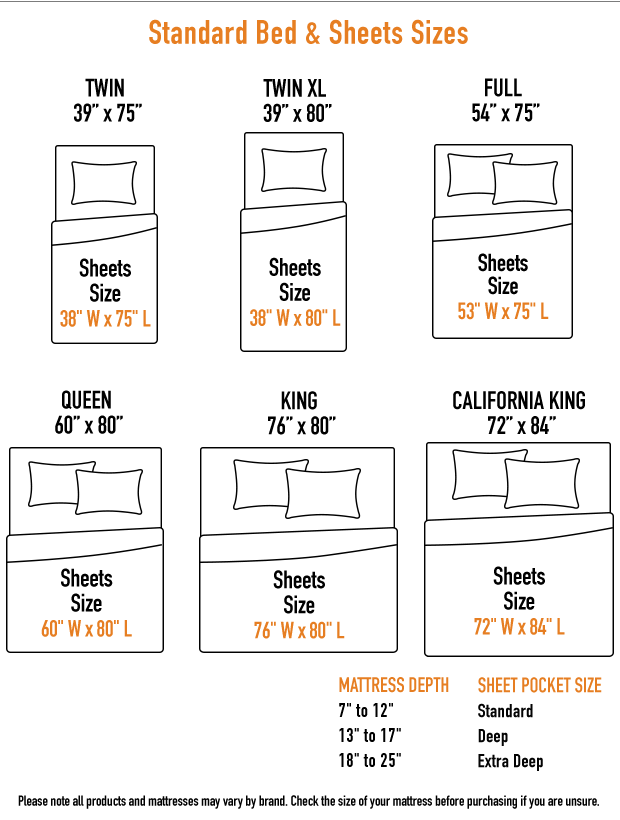 Twin Size Bed: 39" x 75" | Twin Size Sheets: 38"W x 75"L
Twin XL Bed: 39" x 80" | Twin XL Sheets: 38"W x 80"L
Full Size Bed: 54" x 75" | Full Size Sheets: 53"W x 75" L
Queen Size Bed: 60" x 80" | Queen Size Sheets: 60"W x 80"L
King Size Bed: 76" x 80" | King Size Sheets: 76"W x 80"L
California King: 72" x 84" | California King Sheets: 72"W x 84"L
Depth of Your Mattress
Before purchasing sheets, make sure you know the depth of your mattress. The depth of your mattress is the thickness and size of your mattress from top to bottom. This is very important to know when shopping for new sheets as it may alter the fit of standard sheets. Mattress depth can be categorized in the following ways:
Standard Mattress: 7 to 12 inches high
Deep Mattress: 13 to 17 inches high
Extra Deep Mattress: 18 to 25 inches high

Once you solidify the proper sheet size for your bed, the following guide will help you pick out the perfect, cozy bedding for a great night of sleep!
Bed Sheet Thread Count
Thread count is the number of threads woven into a square inch of fabric. The higher the thread count, the more durable the fabric will be. In most cases, a higher thread count also means a softer fabric. However, the type of fiber and weave can also affect the quality of the sheets and should be considered when researching your options. When looking at the thread count, try to find sheets that are between 200-800.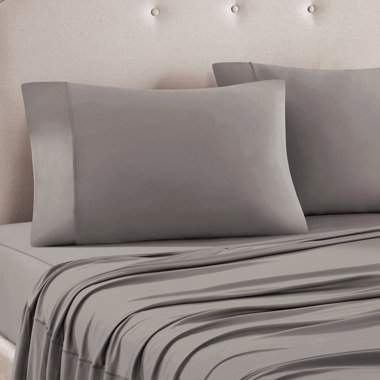 Bed Sheet Fabric Types
Cotton sheets Cotton sheets are breathable, cool, soft and wicks moisture away from your skin. They also come in both natural and synthetic options depending on your preferences. The difference between these cottons is that the synthetic variety is more durable and inexpensive, while the natural option provides a more comfortable feel. Regardless of which type of cotton you choose, they are both durable, soft, and easy to maintain.
Egyptian Cotton Egyptian cotton has it's fabulous reputation for a reason. This type of fabric is one of the most luxurious varieties on the market due to it's impressive qualities. Egyptian cotton is different from standard cotton because it is made with extra-long fibers which makes for a softer fabric.
Jersey Knit While Jersey knit sheets are still made from either natural or synthetic cotton, where they differ is the way they are produced. Instead of being woven like traditional cotton sheets, they are knitted. This gives the sheets a natural stretch and extra warmth. Keep in mind that jersey knit sheets do not have a thread count. Instead, the quality of the sheet can be measured by its weight per square yard.
Polyester Polyester sheets are known for their durability and stain resistant qualities. These sheets are made from a synthetic fiber which is commonly found in many bedding products. They are also wrinkle resistant, but are not as soft and breathable as other fabric options. However, Polyester sheets tend to be exceptionally cheaper than traditional cotton sheets, making them a popular choice for many people.
Microfiber Microfiber sheets are known to be extremely comfortable and warm. These sheets are made from tightly woven synthetic fibers, which make a soft and durable fabric. They are commonly made from either nylon polymers, polyester, or wood pulp, creating a thin yet strong linen.
Bamboo Rayon Bamboo Rayon sheets are made from a unique material of chemically treated bamboo. These sheets are unique because they can regulate temperature, making them perfect for any time of the year. This material also wicks away moisture while you sleep so you can always have a comfortable rest.
Percale Sheets Percale sheets are made from tightly woven cotton, polyester, or silk. These sheets vary from traditional sheets because of its "percale" style of weave. They also tend to be very durable, and leave a luxurious feel on the skin.
Satin Satin sheets can be made from a variety of materials including cotton, sink, polyester, or wool. This type of fabric tends to be of high quality due to its soft feel and shining appearance. Satin is also a great material for keeping warm throughout colder nights. The only downside is that these sheets can be hard to care for, and are not as durable as other varieties.
Sateen Sateen sheets share many similarities to satin sheets, however they are easier to maintain and have a longer lifespan. This fabric is made from cotton and natural fibers, but is woven in a unique way that gives the sheets a beautiful shine and durability.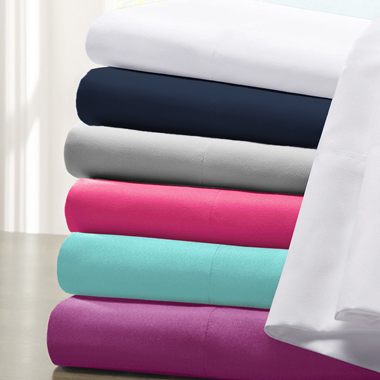 Weave
Weave affects the way a sheet looks, feels and its overall durability. Plain weaves, such as Percale sheets, have an equal number of vertical and horizontal yarns woven together. Plain weave sheets are known for their longevity and crisp feel. Sateen sheet weaves are woven with more vertical than horizontal yarns. The higher number of vertical threads gives the sheet ultra softness. Twill weaves are yarns that are woven two over and one under to create a diagonal line on one side of the fabric. These linens tend to be soft and tend to hold their shape well. Jacquard and damask are weaves that have intricate patterns.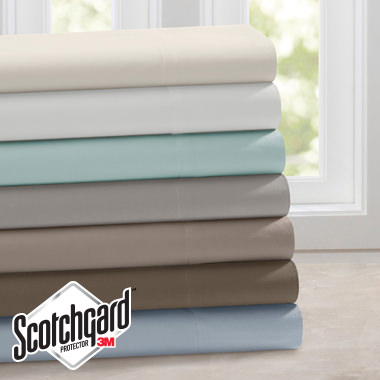 Technology
Sheets also come with special treatments such as 3M Scotchgard ™. This treatment helps to repel moisture and release stains while you get a good night's sleep. This added technology improves the overall quality and lifespan of your sheets.