Buying Guides
Shower Curtain Buying Guide
How to choose the right shower curtains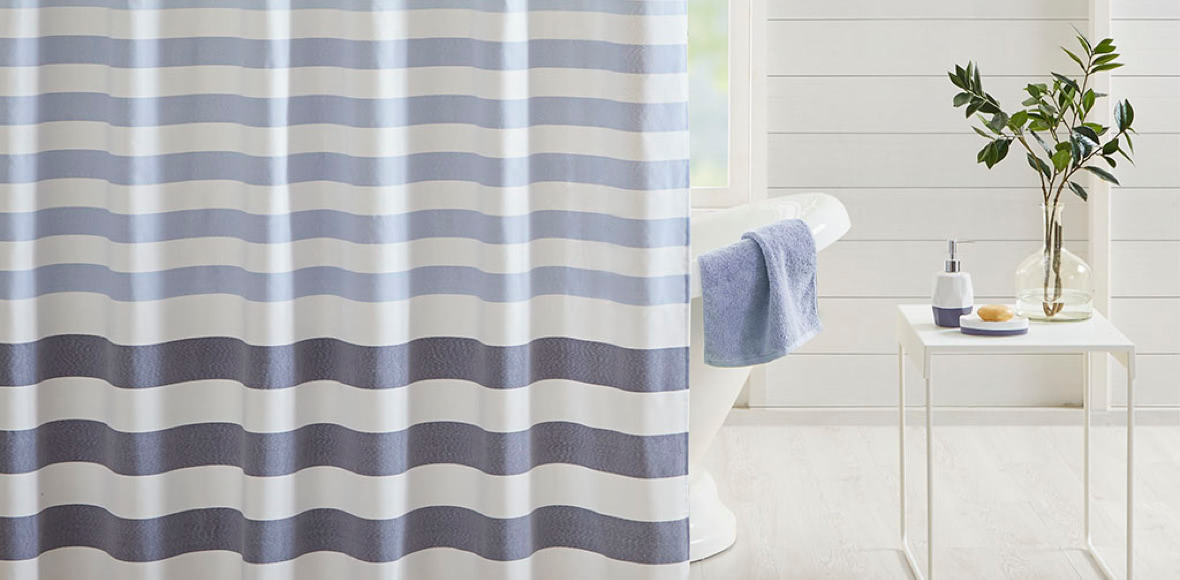 Shower curtains are an often-overlooked element of bathroom decor that have the ability to transform the space completely. Functionally, they are a necessary component in any bathroom that includes a shower. Stylistically, shower curtains are one of the largest, most central, most easily customizable elements of a bathroom. You might think that choosing a shower curtain would be easy, but with so many options available, you may become overwhelmed quickly without some guidance. In this comprehensive guide, we will give some basic information about what to look for when shopping for the best quality shower curtains, as well as a rundown of some of our favorite shower curtains available at Designer Living.
Elements of a Great Shower Curtain
Switching out your shower curtain for a new one is a fantastic way to quickly and thoroughly change the look of any bathroom. But not all shower curtains are created equal, and you will soon find yourself confused when shopping for one if you aren't well-informed on your options. Before spilling the beans on our top picks, we will give you a quick rundown on some of the cornerstones of a quality shower curtain. We will also include some buying tips so you can be sure you're getting the best quality shower curtains.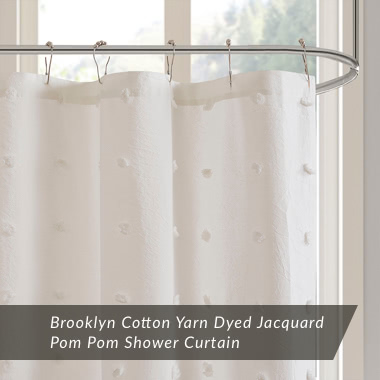 Fabric
Shower curtains come in three main categories of material. There are fabric shower curtains which are strictly for privacy and decorative purposes, and are paired with a vinyl lining that repels water. Then there are vinyl shower curtains which function as a water barrier and shower curtain. Finally, there are fabric shower curtains with an added treatment to help them repel water.
Each design has its benefits. In general, shower curtains made of fabric rather than vinyl are more stylish and give off a classier vibe. Most are easily machine washable, even those treated with 3M Scotchgard water repellent treatment. For most shoppers who are prioritizing style over budget, a fabric shower curtain paired with a vinyl liner will offer the most freedom when choosing shower curtains for bathroom applications. This is because fabric shower curtains with no treatment represent the majority of shower curtains available and offer a virtually unlimited array of different styling choices. Some of the most popular fabrics for shower curtain production are cotton blends, polyester, and microfiber.
Vinyl shower curtains are a great budget-friendly option. Vinyl shower curtains are also quite easy to maintain. Since vinyl repels water naturally, these pieces are less prone to falling victim to mildew and mold. Many vinyl shower curtains are actually machine washable, or can simply be wiped down when they need a cleaning. They tend to lack the elegance, sophistication, and natural feel of cloth shower curtains, but for some shoppers, the low price and ease of maintenance are enough to outweigh the downside.
Size
The standard shower curtain size is 72 inches by 72 inches. Specialty sizes are sometimes available and include extra long, extra wide, and stall shower curtain sizes. You can also influence the look of your bathroom by choosing a shower curtain size based on your specific aesthetic preferences. Some shoppers prefer a curtain that reaches all the way to the bathroom floor, while others like the 'floating' look of a shower curtain which hangs just to the edge of the tub.
Rings
There are an overwhelming number of options available when it comes to shower curtain rings. Each offers their own benefits and are designed to achieve different functional purposes and look a certain way. When choosing rings for your new shower curtain, be sure to first get clear on your priorities in functionality and style. Also, consider "ringless" shower curtains which include larger grommets along the top edge of the curtain that can slide directly over the rod.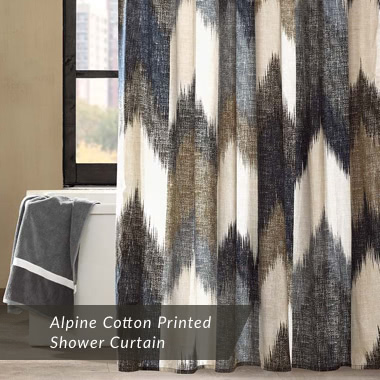 Pattern
Shower curtains come in endless colors and patterns. While the choice will ultimately boil down to your style preferences, the best shower curtains tend to be the ones that match and accentuate the rest of your bathroom decor most effectively. There are also many popular options for solid colored shower curtains, and these pieces are particularly easy to match with existing towels and other decor. Playful patterns can be used to liven up a space, while sophisticated go-to's like stripes easily add elegance and class. Remember, your shower curtain is one of the largest and most central pieces of decor in your entire bathroom, so spend some time choosing a look you really enjoy. For the same reason, switching out your current shower curtain for a new one is a great way to create a specific seasonal look or totally make over your bathroom without breaking the bank or spending too much time and effort.
Our Top Picks for Shower Curtains
Without further ado, let's give a rundown of some of our favorite shower curtains. These stylish pieces are in-trend and available in Designer Living's shop. Here is our list of the best shower curtains available right now!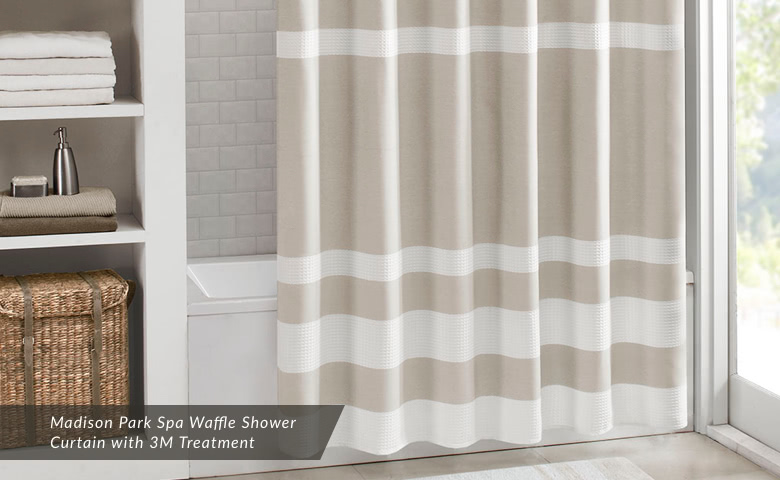 Madison Park Spa Waffle Shower Curtain with 3M Treatment
The Spa Waffle shower curtain from Madison Park boasts an elegant design and a myriad of benefits. With five different colors to choose from including aqua, blue, coral, gray, and taupe, you should have no trouble finding a color that blends with your bathroom decor. This fantastic curtain is also offered in many different sizes, including the standard 72 by 72 inch, in addition to an extra long 72 by 84 inch, a 72 by 96, a stall size of 54 by 78 inches, and an extra wide 108 by 72-inch size.
This curtain boasts a beautifully elegant design that looks great in any bathroom, featuring horizontal stripes and lovely symmetry. The colored stripes are separated by elegant white waffle weave polyester fabric, giving the shower curtain a sophisticated spa-like appeal. 3M Scotchgard treatment helps this sturdy shower curtain to repel water. While a vinyl liner is still recommended, the treatment helps the curtain stay clean and feeling new. This shower curtain is machine washable and dryable, so when it is finally time to clean it, there's no hassle.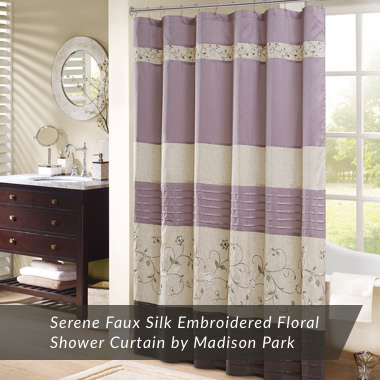 Serene Faux Silk Embroidered Floral Shower Curtain by Madison Park
This fantastically elegant and stylish shower curtain adds a beautiful touch to any bathroom. Delicate floral embroidery is a classically sophisticated look and it would be difficult to find a bathroom where this shower curtain would not look great. Bold multi-colored horizontal block stripe patterns are available in numerous color combinations, so there is sure to be an option that fits your stylistic preferences. Primary base colors available include aqua, blue, blush, green, navy, purple, red, spice, and yellow. The Serene Faux Silk Embroidered Floral shower curtain is available in five different sizes, from smaller stall cuts to extra-wide and extra-long curtains.
The 100% polyester fabric is both durable and beautiful. This shower curtain is meant to be paired with a vinyl liner. It is machine washable and dryable for ease of maintenance, and meant to be paired with rings of your choice.
The main thing we love about this curtain, aside from its durable construction and easy care instructions, is the upscale floral pattern it features. Somehow, this shower curtain manages to add elegance to any bathroom it is featured in, without going over-the-top with fancy frills. We think this curtain is one of the best buys out there right now!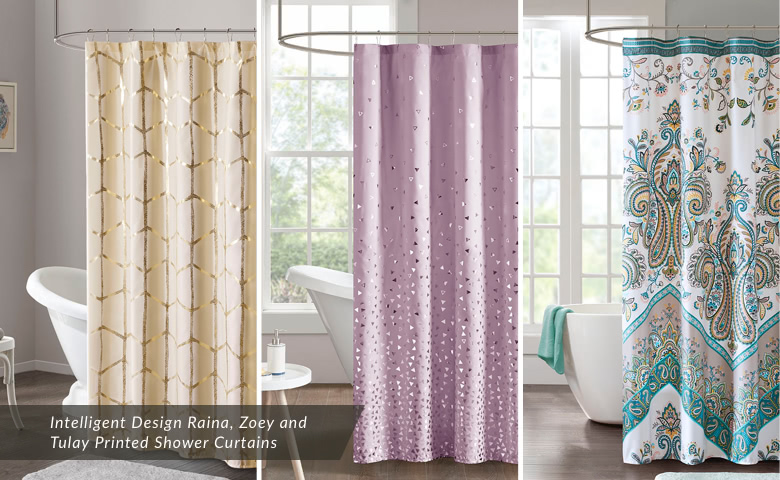 Intelligent Design Raina, Zoey and Tulay Printed Shower Curtains
This fantastic line from Intelligent Design features fun, bright color schemes and playful printed designs. Teens especially love these colorful shower curtains, but anyone looking for a vibrant and upbeat accent for their bathroom will love these styles. The Tulay shower curtain features an elegant boho design and is offered in both purple and teal. Both the Zoey and Raina designs have metallic printed patterns over vibrant colors like purple, blush, and rose gold.
All of these microfiber shower curtains are meant to be paired with a vinyl lining, they are machine washable and dryable, and each is offered in the standard 72-inch by 72-inch shower curtain size. These are easily the best quality shower curtains available for the money, and you are sure to be satisfied with your purchase if you decide to go this route!
Shower Curtains with Quirky Prints
We chose the shower curtains in this section because we love their unique designs and we think they bring beauty into the home!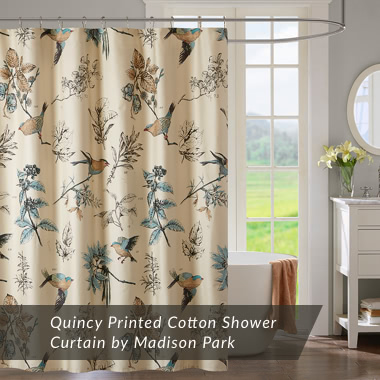 Quincy Printed Cotton Shower Curtain by Madison Park
This beautiful Quincy Printed Cotton shower curtain features a subtle design including beautiful birds and plants. With a soft, neutral color scheme against a khaki background, you shouldn't have any trouble blending this shower curtain seamlessly into your bathroom. Made from cotton twill, this uniquely lovely piece looks and feels sophisticated and timeless. Easily machine washable and dryable, this is a great choice for any home situation.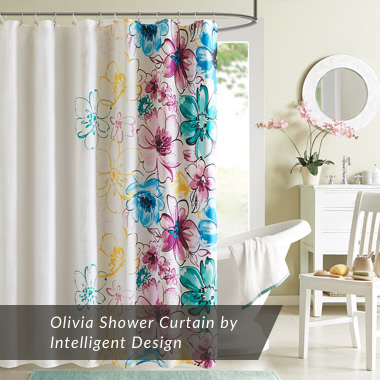 Olivia Shower Curtain by Intelligent Design
This unique shower curtain features a brightly colored floral print, asymmetrically juxtaposed against a white backdrop. With beautiful accents of teal, green, purple, yellow, and blue, this curtain manages to create a sense of playful movement and lightness. A great summertime shower curtain, this piece features a microfiber construction for enhanced durability, quickness of drying (mold and mildew prevention), and ease of care. The Olivia shower curtain is machine washable and dryable and is meant to be paired with a vinyl liner. The pattern on this shower curtain is only featured on the outer side, so a clean, bright white is all you experience when inside the shower.

Shower Curtain Extras
Once you have selected one of these fantastic shower curtains for bathroom applications, be sure to pick up any necessary extras. Choose the rings you want based on their size, features, and price. Some include rollers on each ring that help the curtain to move more freely along the rod. Then, choose a vinyl liner that is the same size as your shower curtain. The shower curtain drapes outside your tub, while the liner will be draped inside to prevent any water from escaping. We recommend liners that include magnets along the bottom, which help them to stay in place. If you are purchasing a shower curtain for a child's bathroom, this is a highly recommended feature to have. Finally, if mold or mildew is of particular concern to you, you may want to consider choosing a shower curtain with 3M Scotchgard Treatment. This treatment repels moisture and dirt to keep your curtain fresh and clean. Thanks for reading, and be sure to check out Designer Living's full line of shower curtains today!

/Home/SubscriptionFirstAtVisit