Product Spotlight
Inspiration for Essential Home Décor
Simple rules to help your space look its best
Decorating your home doesn't have to be an exhausting or expensive endeavor. All you need is a few timeless furniture pieces and some versatile accent accessories to take your home decor to the next level. At Designer Living, it is our goal to help you create the home of your dreams. That's why we've gathered up our best tips to help you create a beautiful space you can't wait to come home to! With essential designer home decor, you can create an incredible space with just a few of our timeless design furniture pieces. A few small tweaks can make a big difference. Ready, set, decorate!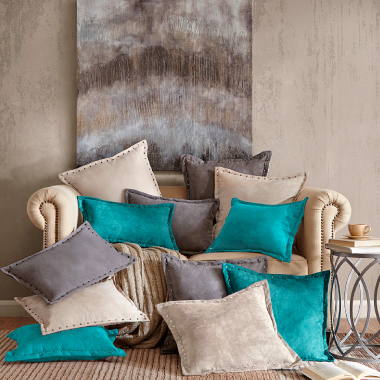 Quick Update with Pillows
Looking for a quick update in your bedroom or living room? Swap out your decorative pillows! Mix and match shapes and sizes within a similar color palette or pattern for an instant change. Use them as a way to pull in colors throughout the room. You can easily change these seasonally so your rooms always feel fresh! Switching out your pillows is an easy and fun way to always stay on top of your home decor game. As long as you start off with versatile furniture pieces, you can mix and match as you please!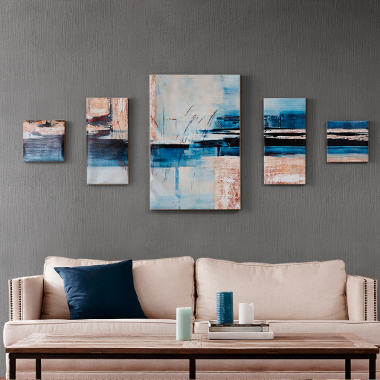 Adorn Walls with Art
When choosing wall art think of the overall size of the space it will be hung in. If you have a large space, make an of large statement piece offramed wall art or cluster together smaller pieces and family photos to create a gallery wall. Hanging a piece that is too large for a space can make it feel even smaller. Not sure how it'll look? Use painters tape to mark off the placement on your wall. Adding sophisticated wall art is an excellent way to create a modern look in any space without having to over spend. For more help on how to choose the right wall art for your home, check out our wall art guide on our website now.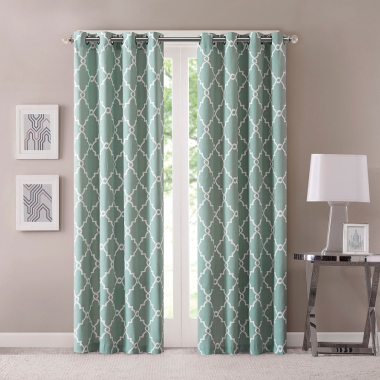 Drape Windows with Pattern
Adding window treatments to a space can instantly take your home decor look up a notch. This easy addition is both functional and stylish, able to block out the sun while also adding a nice decorative touch. Adding patterned window drapes are an excellent idea when designing large spaces such as living rooms and master bedrooms.
To find the perfect window curtain length measure from the top of the window to the floor, then add a couple inches to figure out where to hang them above the window. Next, measure the width of the window and add 4 - 6" inches on both sides to ensure fullness. Standard curtain panels are typically 40 - 54" wide and 84" - 95" inches long. For a more traditional look, you'll want them to puddle on the ground a little, so add 2 - 3" inches to your measurement. For a modern look, curtains will just slightly touch the floor.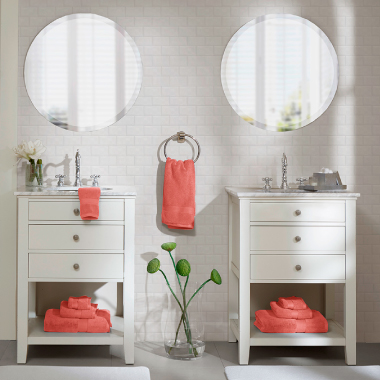 Bring Color to Bathrooms
We spend a lot of our time in the bathroom, yet this is often an overlooked room when decorating. Most bathrooms typically have a neutral color palette so incorporating decor is easy! Adding a new shower curtain and towels is a great way to give your space some personality and style. Bring in wall art to finish your space and create a soothing sanctuary. To tie the look all together, finish the space with complimentary bathroom accessories like a soap dispenser and a tooth brush holder.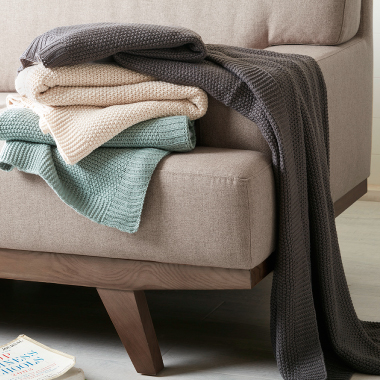 Decor with Function
Functional decor items are always a great find. Throw blankets are perfect for adding visual texture to your bed, a chair, or the couch but also provide additional warmth during cooler weather. Throws come in an array of fabrics and colors so you can find different options for each room.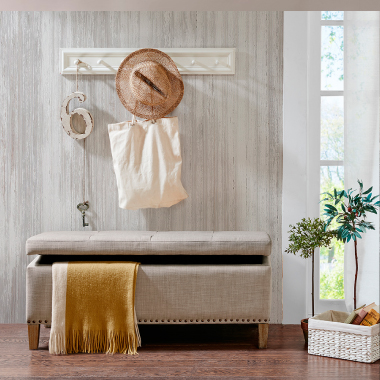 Make an Entrance
Make your entryway a useful, organized, and stylish place. A storage ottoman is the perfect functional piece for shoes or other small personal items. If the space is narrower, go with a console table. You'll be able to set things down, like your keys, so you'll never have to wonder where they are. A mirror will complete the design, adding more light to the space and giving you a final place to look as you leave.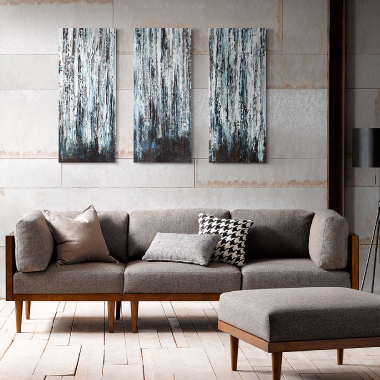 Furnish in Neutrals
When you invest in furniture, keep your couch or sofa neutral and timeless. This will ensure it doesn't look dated as trends come and go. Stick with classic colors like grey, taupe, or navy. These pair with other colors easily. From there, you can mix and match whatever accent pillows you like which will help keep your look fresh and updated. Accent chairs are perfect for going a little more out of the box. Choose a bright color or unique shape to create a statement in your room.

/Home/SubscriptionFirstAtVisit