Product Spotlight
Intelligent Design Blogger Faves
Handpicked pieces from Eclectic Kristen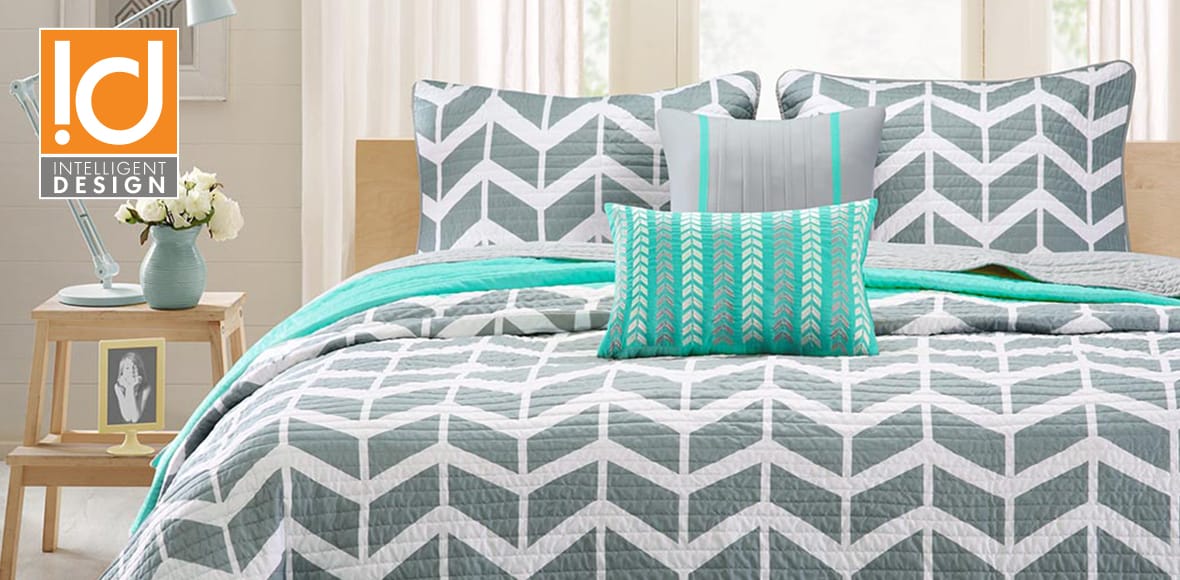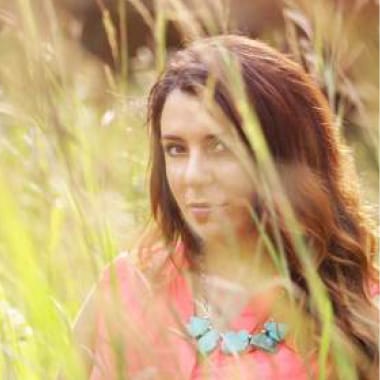 All the aspects of my bedroom that I got from Designer Living are by the brand Intelligent Design. The ID line focuses on trendy patterns in bright colors, although there are some toned down patterns/colors as well. This line is so perfect and affordable for someone who wants to add some bold patterns and colors to their bedroom.
What's great about the ID brand is that although their designs are trendy and appeal to young adults, their designs are also classic enough to go in anyone's bedroom. The patterns from this brand are exactly what I'm looking for as someone in my 20's, but my Mom and Dad (their ages will remain unsaid because I still want to hold my reign as best child haha!) are really interested in getting sets for their home as well!
I can't say how much I really love my new bedding. My new coverlet set is lightweight, yet still warm and it just looks fresh. It comes in the color that you see in my photos, plus black/gray and yellow/gray. The best part about this set for me is that it comes in a king size! Often times I find that it's hard to get trendy bedding in a king size, but like I said before, Designer Living has you covered with whatever your home décor needs are! This king sized set included the coverlet, two king sized pillow shams and two decorative pillows. I paired it with the gray sheet set that matches.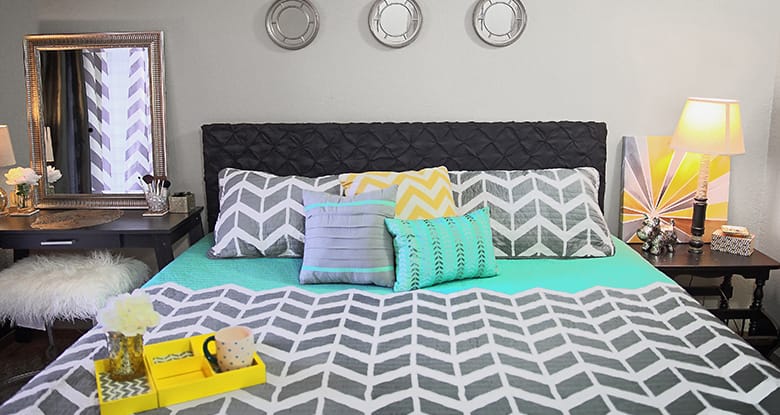 To add a pop of color, I also got this chevron pillow in yellow/white. I'm really pleased with how the yellow from this pillow and the teal from the coverlet set complement each other. This pillow is 20x20 which is pretty large. I'm really happy with the size because it acts as the main pillow between the two smaller accent pillows that come with the coverlet set. This pillow is plain yellow on the reverse side, so you can flip it over if you ever would prefer just a plain pillow, plus it also comes in teal and gray as well.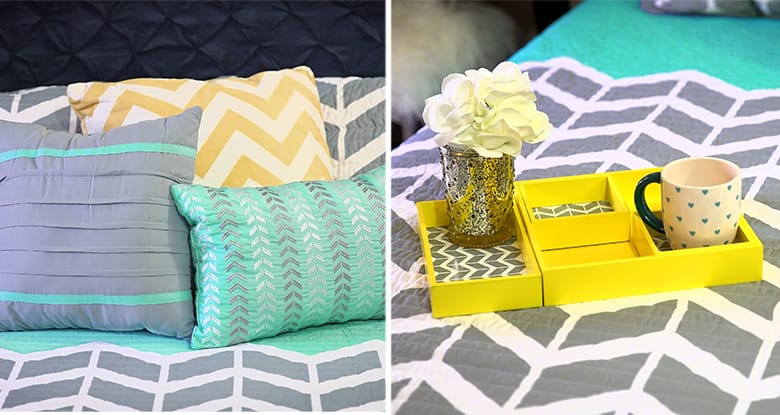 To tie in the yellow accent pillow with the rest of the room, I also got the yellow and gray decorative tray set. This tray set is seriously SO cute and I love that it comes in 4 pieces. There are 3 inner trays that can be removed from the larger tray, so it's definitely multifunctional. You can use the main train for coffee in bed in the morning and use the smaller trays to hold your trinkets on your vanity, or whatever you want! The small trays have a gray and white chevron pattern on the bottom which is the cutest detail. This set also comes in gray which could be the perfect additional to any space of any color.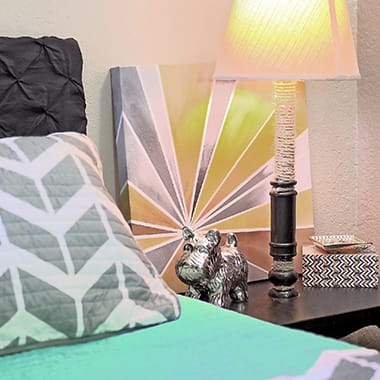 I also added this 'Ray of Sunshine' canvas as the last element of yellow to bring everything together in my room. It is gel coated which adds a really nice finish on top of the canvas. I love that this piece reminds of the actual sunshine, which has been completely nonexistent in Ohio for the past 3 months.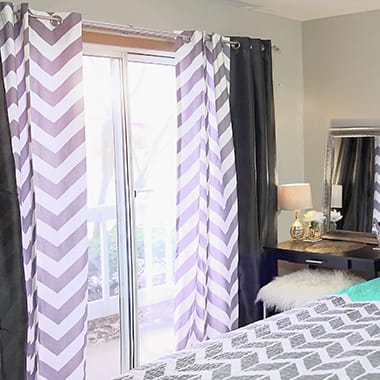 I think the #1 thing that has brightened up my room is my new set of white and gray chevron curtains. They let some light shine through, plus the bold pattern in neutral colors really adds some character to the space. I paired these with a set of dark gray curtains that I already had so that the chevron wouldn't overwhelm my tiny room. I really love the way curtains give your space a really 'put together' feel. I promise, add curtains to your room and it will absolutely complete your space!
(Originally posted on Eclectic Kristen)
Tips
Kristen loves a springy feel for a bedroom. She feels more awake and energized in her room now with the pops of color.

/Home/SubscriptionFirstAtVisit