Trend Watch
Spring Floral Blogger Faves
Handpicked By Laura Of Monograms & Moscato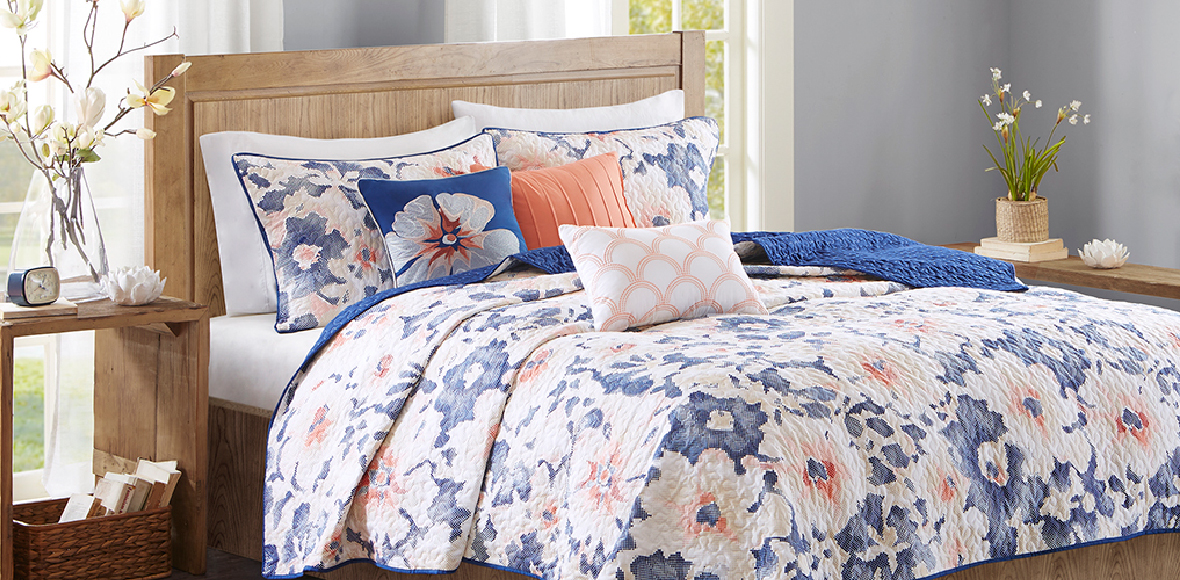 Laura is a preschool teacher by day and a blogger by night! She specializes in DIYs, home décor, and cooking. We're so happy to have Monograms & Moscato featured in our Get Inspired trends.
Oh my goodness, friends…I don't know about you but I love updating our bedding every year…sometimes every other season. Is that weird? I mean, I do have a good excuse…hello, Iowa. With four seasons, you can't have a heavy comforter in July or your light duvet in December.
A few months ago I came across some gorgeous bedding from the company Designer Living. They have some really great brands and not only do they have bedding, they have home decor, furniture, apparel and so much more! I know, exciting!? Right!?
But, let's just focus on the bedding! The bedding I'm featuring is from Madison Park. It's the Makena 6 Piece Quilted Coverlet Set. You can find this exact bedding here! I really love the coverlet. I have to admit I've only ever bought duvets or comforters so I love this change up with the coverlet! It's the perfect weight for this transition through spring and I know I'll love it for summer, too! It's so soft and the pattern is so bright and is especially great for bringing some colorful life into my neutral bedroom. Plus, those decorative pillows give so much depth to this pattern.
(Originally posted on Monograms & Moscato.)
Tips
Floral prints are all the rage right now and come in a variety of styles. Some feel more modern, while others feature more classic styling. Find the perfect fit for your space!

/Home/SubscriptionFirstAtVisit