Decorate
Back To College: Study In Style
Mix Classic & Fun Designs For A Modern Vibe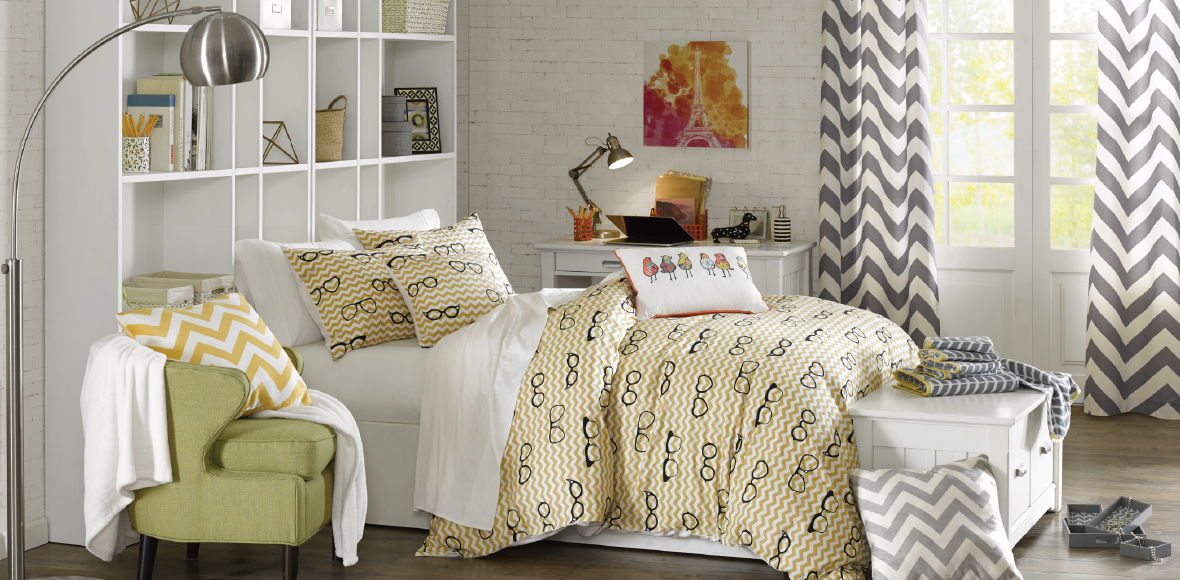 New school prep is here! For added fun, go with graphic prints. They mix perfectly with geometric patterns like chevrons. Use different sized patterns throughout your room to give it dimension. Want another approach? Go with solid bedding and add pattern in with decorative pillows and other accessories. Browse our college dorm sets and other essentials.
We love bedding with fun, graphic details. Choose from things like glasses, cute dogs, or even elephants! Incorporate geometric patterned sheets to tie your look together. Or flip it around and go with a more neutral bedding and add other décor elements to add some style!
Not sure what type of curtain you need for your space? Balance your space with a geometric pattern or sheer curtain. Use a shower curtain to cover your closet space or create a room divider. You can find these looks on standard curtains, or specialty energy-efficient blackout curtains. Check out our curtain buying guide for more tips.
Keep the graphic look going with your wall art. Bring in bright pops of color and inspirational phrases to make your dorm room an awesome place to hang out. Be sure to use removeable hooks or hanging strips to prevent wall damage.
Fun pillows really add personality to a space and make your bed super comfy! Add a modern lamp to keep the space well lit and updated. Bath accessory sets double as desk storage. Use the soap dispenser for lotion and keep jewelry in the tray.
Tips
Need more inspiration? Check out our Back to College video or our Mix and Match toolto find your perfect style!

/Home/SubscriptionFirstAtVisit