Decorate
Decorating With Faux Fur: Ideas For Your Bedroom
Faux fur know-hows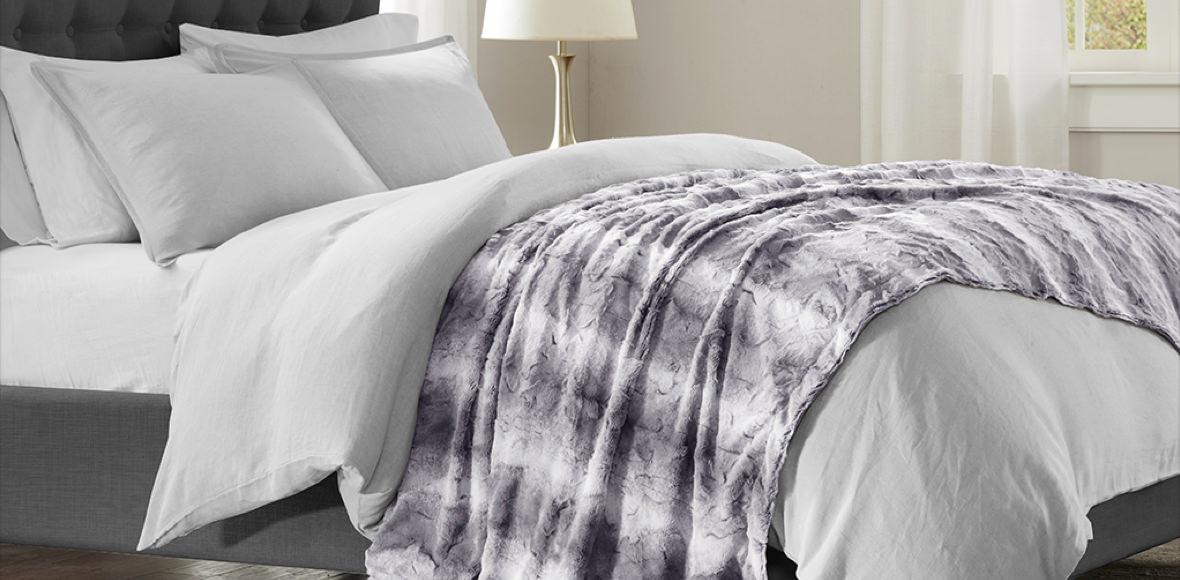 Faux fur is quickly becoming the latest trend in interior design. We've seen it on many runways in recent months, and the luxurious material is making its way into more and more homes now as well. With its cozy feel and inviting, soft nature, the bedroom is one of the best places to incorporate faux fur into your furniture and decorations. While the trend for home furniture and decoration has generally been more modern, streamlined, and cold for some time now, that trend is changing - and the warmer, cozier, softer tones that we are now seeing in more homes across the country are brought through strongly by materials like faux fur. Additionally, faux fur is a cheaper and more animal-friendly alternative to real fur, making it not just a cozy option but an eco and wallet-friendly choice as well.

In this article, we will outline some of the main ways to incorporate faux fur into your home and go over some general guidelines for using this unique material.


The Best Faux Fur Items for Your Bedroom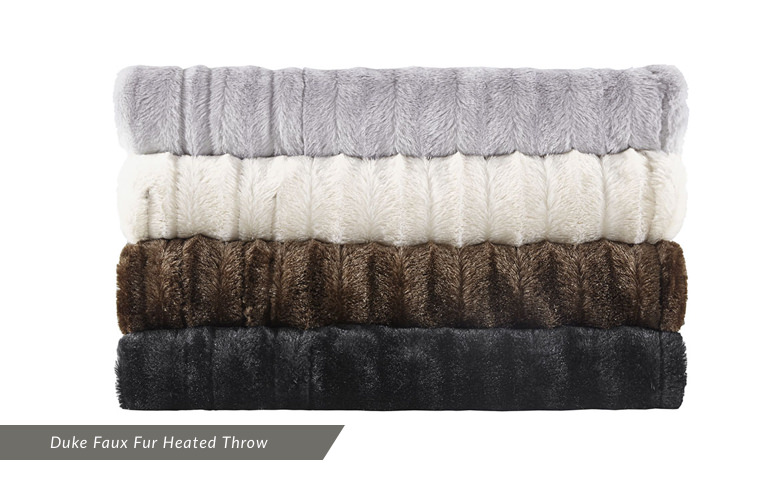 Faux Fur Throw Blankets
Throw blankets are a natural choice for a faux fur accent piece in your bedroom. The only way to make this already cozy item even cozier is to choose a throw blanket made from faux fur! Throw blankets in bedrooms work well draped towards the foot of the bed or over additional seating if you have some. The beauty of faux fur blankets is their versatility and their ability to add both a stylistic touch and a functional addition to any room. In the bedroom, they can accent rugs and bedding beautifully while giving you a new favorite go-to cozy blanket to wrap yourself in on rainy Sunday mornings.

When shopping for a faux fur throw, consider your bedroom and its existing decor. Will the throw be draped lavishly over the foot of your bed? Will it get folded neatly over the arm of an accent chair? What color schemes are you already working with? Will you go with a neutral tone or more of a loud, stand-alone color? Faux fur's unique texture adds warmth and luxury to a room when deployed correctly, but if you clash your new faux throw blanket with your existing decor, this material is prone to appearing a bit out of place and classless. For great faux fur throws with neutral tones, check out the Edina, Duke, and Zuri collections available on Designer Living!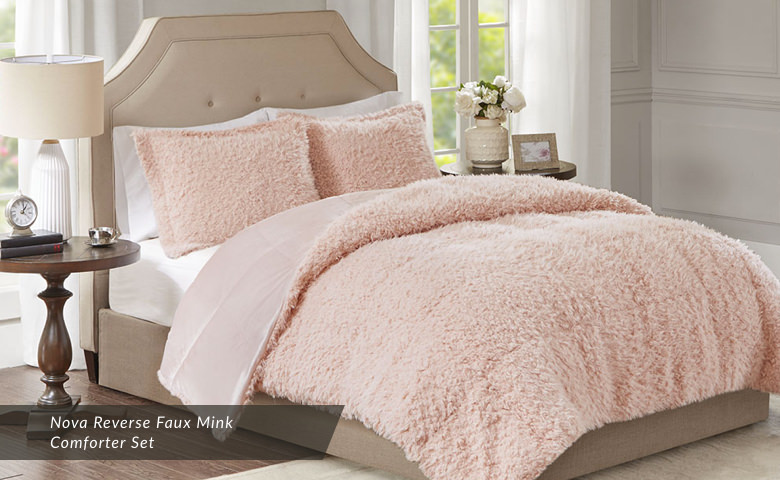 Faux Fur Bedding
Bedding is one of the most critical elements of bedroom design. Without comfortable and stylish bedding, it doesn't matter how beautiful and cozy the rest of your bedroom decor is - it will never have the complete feel you are looking for. Zuri and Duke offer incredibly stylish, cozy, and well-priced options for faux fur bedding that are available on Designer Living!

When it comes to faux fur bedding, it is difficult to go wrong. The two cornerstones of any comforter sets are style and comfortability. Stylistically speaking, consider that your comforter is one of the most visible and central pieces in any bedroom. Whether you choose to go with a stand-out, loud piece or something that takes more of a backstage to other elements of your bedroom design, the comforter is, unavoidably, extremely visible. Choose something you want to look at every day! In terms of comfort, a comforter regulates your sleep with its warmth and weight. Additionally, you want a material that feels good to lie on top of when watching television or reading. Faux fur is a wonderful choice for both comfort and style, and your guests will be impressed when they see your luxurious faux fur bed set!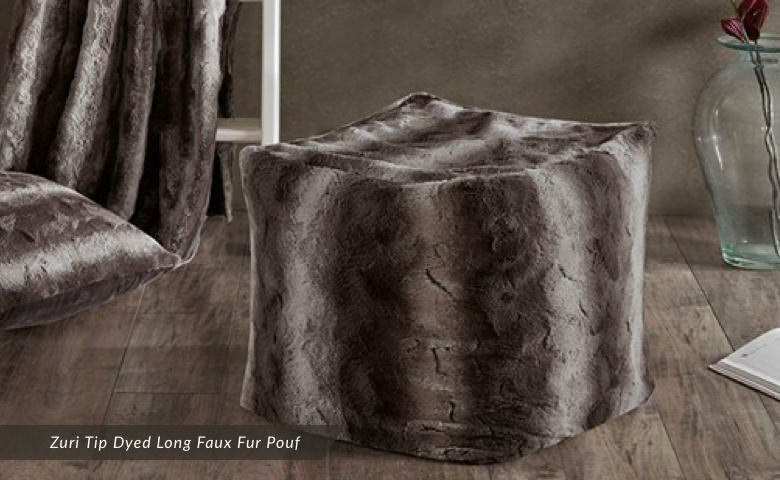 Faux Fur Seating
We have some great options up on Designer living for Faux fur seating that can really liven up a bedroom! The Edina and Duke faux fur poufs are an excellent option, as is the Zuri faux fur tip-dye option. Pair these items with coordinating throw blankets or pillows for a complete set! Faux fur seating provides a cozy place to sit in your bedroom while adding a warm style and keeping you up to date with the latest design trends. If you do not have a need for additional seating, these versatile pieces can also be used as a side table of sorts, where you can keep books and other items and still get the stylistic benefits of this faux fur piece.


Tips and Tricks for Decorating Your Bedroom With Faux Fur
Faux fur is a unique material, and it won't do to simply add a few random faux fur pieces to your bedroom. This lustrous material must be applied correctly in order to reach its full potential in your bedroom. Now that we have gone over some of the typical faux fur pieces that are found in the bedroom, let's dive into these helpful faux fur decorating ideas and tips and learn how to decorate with faux fur correctly in our homes!


Faux Fur Adds Texture
Faux fur's shaggy and soft texture is what sets it apart from other materials in the bedroom. It adds texture to a room, and this should be considered when you are contemplating where and how much faux fur to incorporate into your bedroom. If your bedroom feels cold, tidy, and clean, adding faux fur can really balance out the space and bring warmth and depth.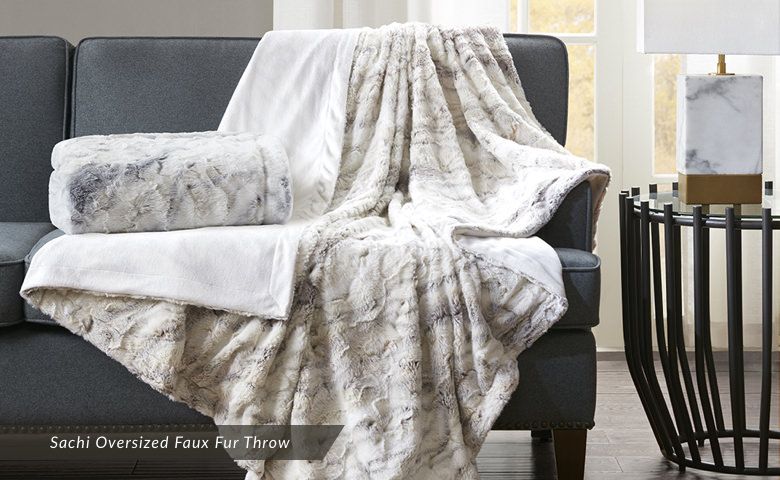 Fur Length and Color Affect Authenticity
Faux fur is an imitation material. While it has certainly taken off in popularity in recent months and developed into a subset of its own, it is still imitation fur. If you are going for an authentic fur look without the price or animal impacts, try finding a faux fur piece that has longer hair and varied tones. While there are real furs that have flat tones, variation will help the piece look authentic. If you go for a lighter color, try cream rather than stark white faux - even the whitest animals used for fur have some amount of darkening.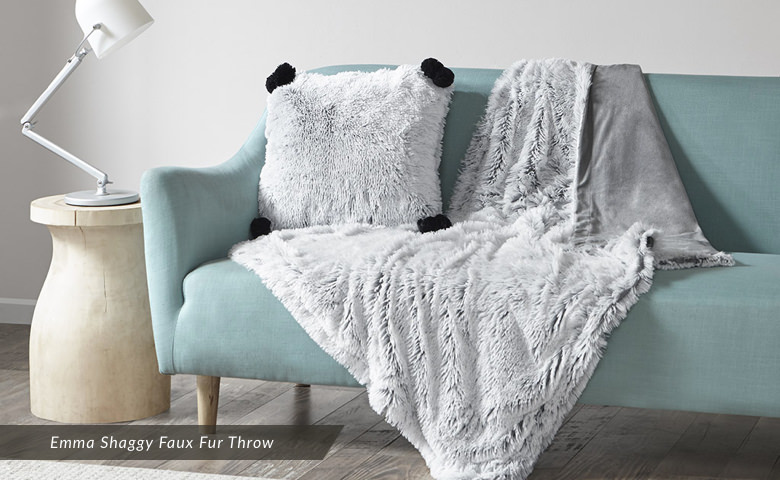 Lighter Colors are More Versatile
Faux fur is a warm and cozy material and we might think of it as being applicable only during the colder months. With darker colored faux fur pieces, this may be the case. Lighter colors allow for greater versatility and can be used into the spring and summer seasons. Furthermore, whites and cream tones blend with a wide variety of colors, making them not only usable in all seasons, but with an array of existing bedroom decor. By extending the number of months of the year that the piece can be used, lighter tones also add value to a faux fur piece and eliminate the need to change our your faux fur decor in the springtime.



There is Such A Thing As Too Much Faux Fur
By now, you may understand why faux fur is so trendy and why it is such a fantastic material to incorporate into your bedroom. While a touch of faux adds a sophisticated, luxurious ambiance, going overboard with it can have the opposite effect. As a general rule, one to two faux fur pieces in your bedroom is a safe bet, while three separate pieces are around the number that tends to put a room over the edge. You want to subtly take part in this trend, not deck your room out from wall to wall in faux fur - but trust us, we understand the impulse!



Put it to Use
Faux fur is soft, and let's face it: while it looks great and is certainly en-vogue at the moment, it would not be nearly as popular without its signature furry feel. This is why we recommend choosing faux fur pieces that get touched often and aren't simply for aesthetics. The bedroom is somewhere we all want to feel cozy and content, and adding faux fur in the right places is a fantastic way to achieve this. You will love our options for faux fur bedding, seating, and throws!



The Bedroom is Your Space
Interior designers love working with bedroom spaces because they are the one space in the house that will not be oriented at least partially towards entertaining guests. The bedroom is your space, so when you are shopping the Designer Living website for your new favorite throw faux fur pillows or pouf seat, remember to consider your stylistic and functional preferences above all else. It can be somewhat difficult to break the 'host' mindset if you have been making design changes in other rooms as well, so just remember that guests will not be spending much time in your bedroom and this is your opportunity to shop for you! Have fun with it, and enjoy your new faux fur bedroom decorations!



/Home/SubscriptionFirstAtVisit