Decorate
How to Choose the Right Coffee Table
Find the right coffee table to suit your sofa and living space here!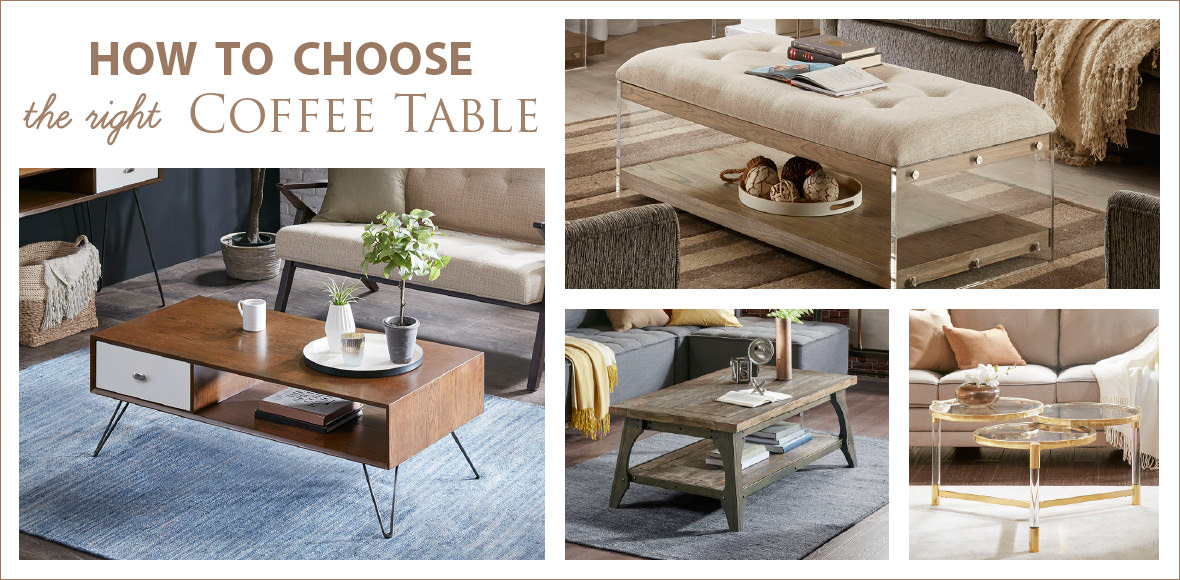 While sofas may be larger and more expensive, no piece of furniture takes center stage in a living room like a coffee table. Coffee tables are often the first thing to catch the eye in a room, and they can accent the rest of the living room decor or serve as a statement piece. They are also quite important functionally for many families. For these reasons, choosing the right coffee table is imperative to the flow and feel of your living room. Read on to learn how to shop and choose the right coffee table for your needs!
Shape
When you walk into your local furniture store, you will see coffee tables of all different shapes and sizes. Oblong pieces, squares, circles, rectangles, etc. With a primary function of simply providing surface space for items, there is no set shape to which coffee tables must adhere. That being said, rectangle coffee tables are the classic and most common option, and it is difficult to go wrong with a rectangular table. On the contrary, some prefer round coffee tables because they have a quality of 'bringing the room together' and can be great options for entertaining guests.

Furthermore, coffee tables with sharp corners, such as square coffee tables, are notorious for causing peril for small children, so do take into account your family dynamic and what the safest option may be. Finally, take into account your seating dynamic, such as your couch's shape and size, when considering a shape for your coffee table. Long couches will probably look a bit awkward when paired with a circular or square coffee table, while a wrap-around sectional could work well with one of these pieces.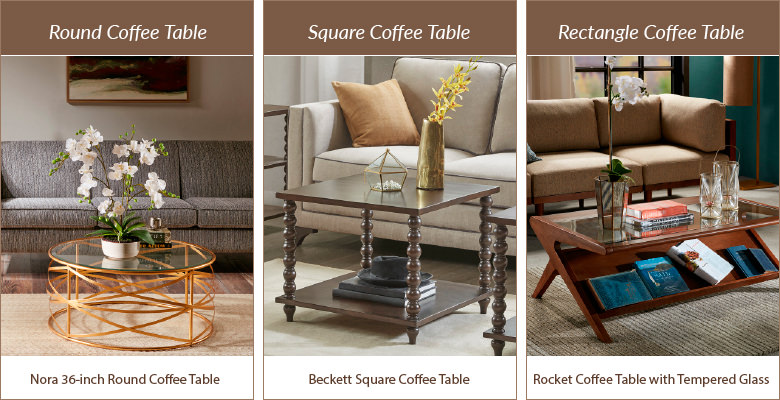 Size
Variety of your choices does not end with available shapes when it comes to coffee tables; you will find an array of sizes when you begin your search as well. Choosing a size for your coffee table comes down to the size of your living room and the set-up of existing furniture. More than anything, base the size of the coffee table on the size of your couch. It should be no longer than two-thirds the length of your sofa, and no higher or lower than a few inches above or below your sofa's height. Additionally, you want to keep somewhere in between 36 inches and two feet of space on all sides of the coffee table to allow for easy passage through the room and to keep things from getting over-crowded.

Using these guidelines, we recommend bringing out the tape measure and sizing up the space and measurements that your coffee table will go in. Once you have some general dimensions that you are looking for, think about your own personal preferences. Are you or is someone in your family particularly on the taller side? Maybe you want to try a slightly raised coffee table. Going for a more laid-back feel? Lower the coffee table height a few inches. Does your family read a lot? Consider a table with a bit more surface area. At the end of the day, there are no strict rules for coffee table sizing, just the aforementioned guidelines to help point you in the right direction. Personal preference and taste are still paramount to choosing living room furniture, including the coffee table.
Material
When choosing a material for your coffee table, think of striking a balance between functionality and style preference. Those with small children will want to steer clear of glass tops unless they are inlaid, while others may prefer glass because it is easily cleaned and has the ability to display items underneath. Wood (stained in the right color) offers a versatile style choice for many living room set-ups, but if you can't bring yourself to use a coaster, you may want to think twice. Most coffee table materials have their upsides and downsides, and it ultimately will come down to preference and budget.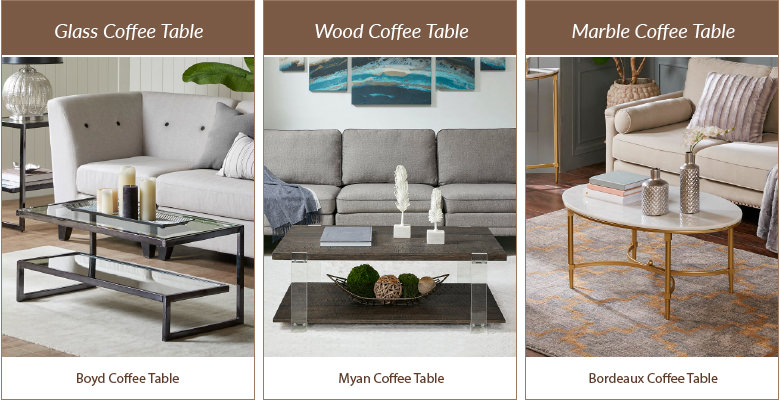 Additional Functions
While most coffee tables are simply comprised of a surface and a base, some do provide added functionality. Some tables are two-tiered and have an area below the surface for magazines, books, and games. Others have drawers. Some coffee tables have a raisable surface for eating or working. Most families want a coffee table because they add a nice central focal point and surface area, but some may want one or more of these extra functions. Be sure to consider how you will use your coffee table before making your final purchase. If interested in learning more about choosing accent and/or coffee tables, read our Coffee Table Buying Guide and feel free to shop accent tables too!

/Home/SubscriptionFirstAtVisit