Decorate
How to Choose the Right Sofa for Your Living Room
Designer Living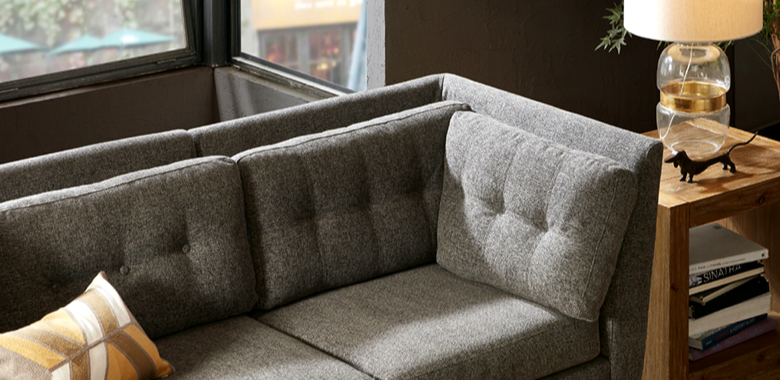 When purchasing a new sofa for your living room, there is plenty to consider. This is a piece of furniture that will see nearly constant use, and it is not likely to be cheap. For the amount of money you are likely to spend on a sofa, you want something that will look and feel great for years to come. Furthermore, sofas define the look and feel of a room - so you need to consider whether you will be building the rest of your living room furniture around this piece or adding it to an already set-up space.

With so many options available, it can be difficult to know how to choose the right sofa for your living room. With this guide, we will help you narrow down your options and hone in on the couch that was meant for you all along. Read on for more!
Functionality First
Start the process of searching for a sofa by thinking about how this piece will be used. Is this the centerpiece of you and your family's living room? Perhaps this will only be used in a formal living room that sees action when you have company over. On the contrary, maybe you, your dogs, and your children will spend multiple hours every evening using and abusing this couch.

Just because a sofa is pretty does not mean it is right for you and your specific needs. Knowing exactly what kind of use this couch will see is an important first step in the buying process. You will weed out many options right off the bat if you set a clear precedent for what kind of use the couch will be getting.


Size
Size plays a role in both the functionality of the couch and the style and flow it brings into the living room. Perhaps you are considering a large sectional or L-couch so you can seat many people, but remember that you could throw off the energy of the room by filling too much space with a sofa. You could even end up impeding the way people naturally move through the room. Conversely, you might fall in love with that simple, modern, small sofa at the furniture store - but it will look silly in a larger living room that doesn't have ample seating otherwise. Furthermore, it is difficult to make such a small piece look natural in a larger living room, and even though you love the look, it may not provide enough of a seating area for your functional needs. If this is the case, consider adding a few accent chairs into the space to create a usable and functional area. It's important to consider how much space you have to work with; this can vary from having a big space, a long narrow room, to a small space.

There are some simple measurements you can take that will help greatly when choosing a sofa. General guidelines recommend about 18 inches between the couch and the coffee table (enough room to walk through but close enough to reach the surface of the coffee table from the sofa). Additionally, about 6-10 feet of space between the couch and the television is recommended, depending on TV size and preference. Finally, try to leave around 36 inches between the wall and the sofa. Following these guidelines should help in choosing a sofa that is the correct size for your space -- whether you have a big or small living room.


Fabric
Fabric factors significantly into both functionality (think: your four-year-old eating ice cream on the couch) and style. Some fabrics will hold up very well to abuse, but you may not like the appearance or feel. Others may be striking and soft but quite fragile. Of course, you want to find an upholstery that can hold up to the use you plan to put it under and still look and feel great. Below are some popular options for sofa fabrics with general information regarding durability and appearance.


Leather
Leather has stood the test of time and lasted through many eras of change in furniture style preference. And for good reason: Functionally, leather is an extremely strong material that doesn't readily absorb liquids and can withstand years of use. Stylistically, bringing natural material into a space serves as a versatile and classy option that suits many different living spaces. Leather couches do require some upkeep to maintain optimal look, feel, and last. They're not cheap, either.


Linen
Linen is quite durable and wears well compared to many fabrics. It's soft but subtle texture appeals to many buyers, and it ages well in terms of appearance. As linen ages, it tends to fade gracefully, creating a lovely, light, warm ambiance. Linen is susceptible to staining, and that should be considered when thinking about use. It tends to be in the mid-range in terms of upholstery prices.


Velvet
Velvet is a somewhat specific choice stylistically speaking, but when it does fit a space - Man, does it look good! Velvet is one of those fabrics that immediately makes a space feel classier and cozier. It is surprisingly durable as well, so just because you have kids or pets doesn't mean you have to skip the luxurious route.


Performance Fabrics
Performance fabrics were originally developed for use in outdoor furniture, but in recent years developers have begun to make changes to expand their application to the living room as well. These fabrics are stain, water, odor, and fade-resistant. They can be easily cleaned, and are even anti-microbial. With the recent development, they come in many different textures, colors, and patterns - and they usually won't break the bank. These are hard to beat fabrics, especially for anyone with kids or pets.


Color
Now that you have narrowed down the size and fabric for your couch, you can start thinking about more stylistic factors. As the largest piece in the room, sofas inform the style of the rest of your living room furniture. If you choose a neutral color, you will have more options for decorating, including curtains and drapes, throw pillows, rugs, art, etc., as a neutral palette pairs well with nearly any style and color. On the other hand, choosing a colored couch can be a great style choice to draw the eye, but will limit your options for the rest of the pieces in your living room.

Additionally, color has an immediate effect on the energy of the room. Take into account whether you want your living room to be a relaxing sanctuary or more of an upbeat social setting. If you want a more relax, laid-back feel, cool, neutral colors, and wood tones are best. For liveliness, bright colors and intense contrasts bring a space to life. There is no right or wrong color for your sofa, but it can make a big difference in the ambiance of your living room, so don't take the decision lightly.


Quality Sofa Buying Tips
Even once you have found a sofa that you feel meets your functional and stylistic needs, you need to make sure you are buying a quality piece of furniture for a reasonable price that has value and will stand the test of time. Check for these signs of craftsmanship before buying.


Hardwood Frame
When it comes to furniture frames, especially couch frames, there is one material that far overshadows all others: Hardwood. If your frame is made from plywood, MDF, or any other material, you will be sacrificing quality (hopefully, in turn, for a reduction in cost). Hardwood simply lasts longer and holds up to abuse better than any other sofa frame material on the market. Genuinely top-quality couches will be made with kiln-dried hardwood - meaning the wood is put through a high-heat drying process, making it even stronger.

Additionally, a hardwood frame is necessary for the eight-way hand tying process, which we will get to next.


Eight-way Hand Tying
Eight-way hand tying is perhaps an even more critical factor in the quality of your sofa than the frame material. The term describes a process of building the base of a sofa, underneath the cushions. Eight-way hand tied sofas have steel springs, nailed to a hardwood frame. From these springs, hemp cords are tied in eight directions; creating a suspension system for the couch that diffuses pressure evenly throughout all the springs. Eight-way hand tying eliminates the common problem of cushions sagging in an uncomfortable manner. For this reason, it adds value to your couch in the form of lifespan and is absolutely a worthy investment. Ask your salesperson or check with the manufacturer whether a couch is eight-way hand tied before purchasing.


360-Degree Tailoring
While eight-way hand tied construction and hardwood framing are structural and functional qualities to check for, 360-degree tailoring is a stylistic quality. Once you have ensured that your sofa's construction is of the highest quality, check the upholstery carefully. 360-degree tailoring refers to the process of lining up the patterned upholstery on all panels of a couch so that it has a seamless appearance. For example, if you were considering a couch with stripes, you could check to see if the stripes line up where there are seams in the upholstery. If they do, this piece is 360-degree tailored. Because this process requires more time and more fabric to be used, it is a sign that the furniture makers pulled out all the stops to make a quality piece. Plus, it catches our eye; we think it looks better and more classy.


Invest in Quality
First and foremost, this is going to be your couch in your living room. The information in this article will help you narrow down your choices to just a few sofas, but the decision is still up to you! Depending on you and your family's lifestyle and routine, your new sofa could be a furniture piece that sees more use and contributes more to the experiences had than any other. For this reason, we highly recommend investing in a quality sofa and spending the extra cash to do so. It is not unreasonable to spend between twenty and thirty percent of your living room furniture budget on a new couch. Investing in high-quality options such as a kiln-dried hardwood frame with eight-way hand-tied construction means that you might be able to have the piece reupholstered and get an additional five to ten years of life out of it. When you look at it this way, it can actually be a cheaper long-term decision to invest in a high-quality piece! We hope this article has provided helpful ideas for you as you try to figure out how to choose the right sofa for your living room and create a living room area that is truly you!