Decorate
Unique Wall Gallery DIY
Unique Wall Gallery Blogger DIY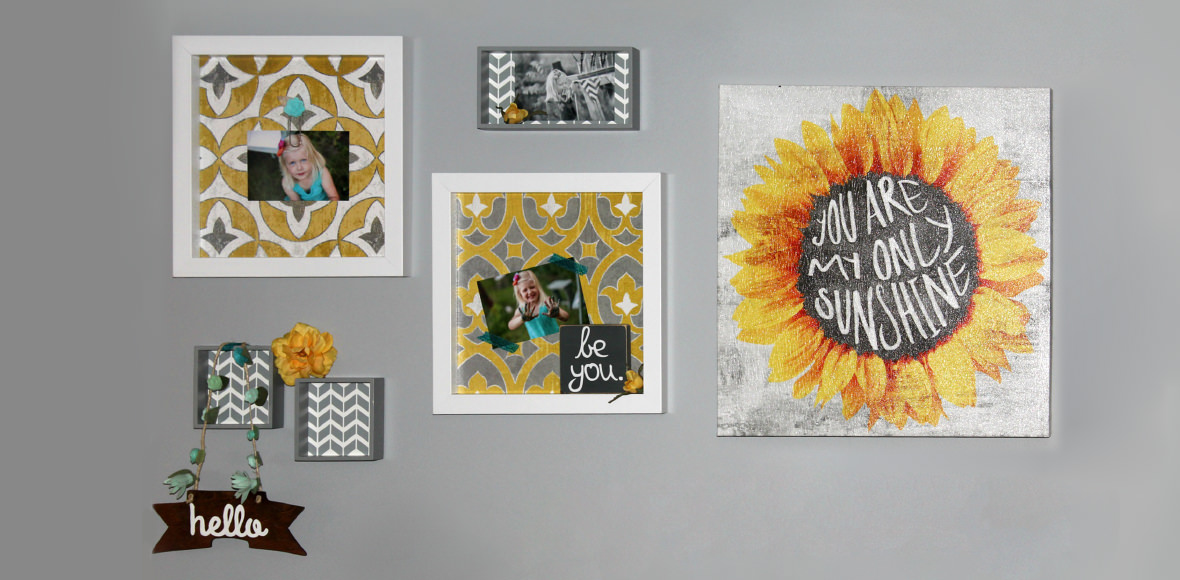 Yellow and grey are the perfect balance between neutral and bright. The warm yellow tones pop against the cool grey. This great combo works in all styles from traditional to modern. Find a few pieces to create a focal point in your room starting with window curtains and wall art. For a bigger impact, bring yellow and grey into your bedding. Finish the space with solid accents of either grey or yellow.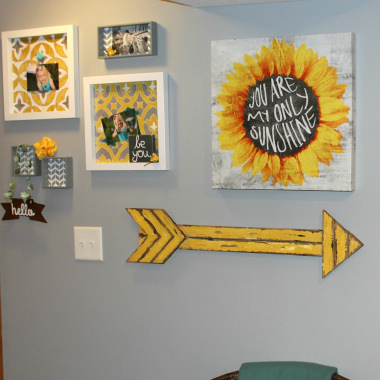 We were so happy to partner with Michelle Knox of Ellery Designs on this post. Michelle's home is fabulous – be sure to check it out on her blog – so we knew she'd come up with something fun! See how she transformed our accessory tray sets and framed art sets to make a gallery wall that is perfectly personalized.
Gallery walls are my favorite, and what I love even more is using unique pieces to complete the design. For example, on this wall I used the 4 piece decorative tray set in gray from Designer Living. Typically seen on tables, I decided to hang the trays on my gallery wall using command strips and adding different photos and textures to make them really give them some added dimension and character. I hung the plain gray tray on a diagonal to spice it up a bit because my daughter said she liked how it looked like a diamond. Sometimes, you gotta listen to your kiddos design advice b/c I love how it looks. I had that little birdie picture holder lying around so decided to add that inside the tray to display the photograph.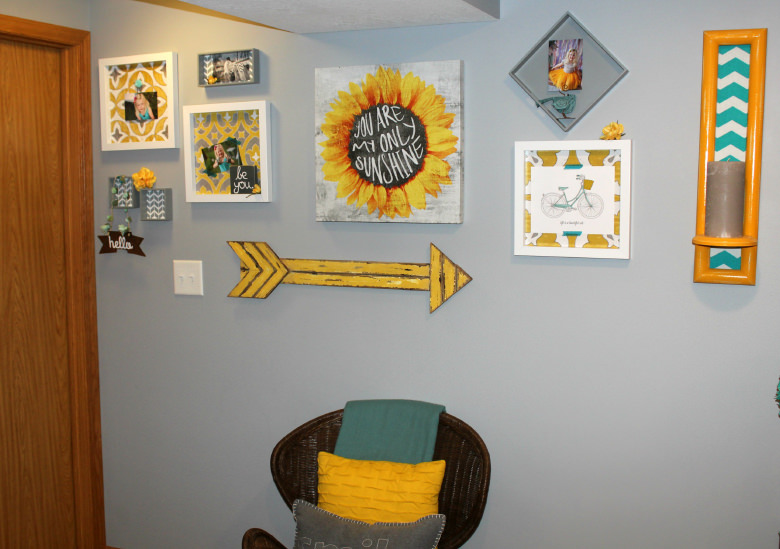 We've had this blank wall space in our finished basement for a while now and I'm so happy with how it turned out. The color scheme is gray, yellow and pops of aqua/turquoise and we've kept that theme throughout all of the decor. The You Are My Sunshine canvas is dear to me because our daughter is our one and only sunshine so it's more than fitting for us. These pictures of my daughter are some of my favorites of her from a fun outdoor art session we did a few years ago. I used more photos, funky paperclips, faux flowers and washi tape to dress up the three Tuscan tile patterned frames.

Tips
Michelle takes pieces she already has and mixes them with new items to create a design that reflects her family. Bring color schemes through your design to make a beautiful, cohesive space!

/Home/SubscriptionFirstAtVisit